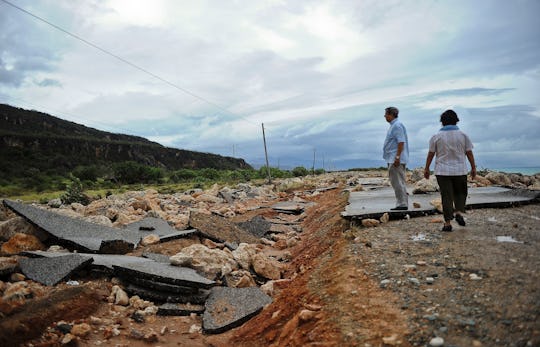 YAMIL LAGE/AFP/Getty Images
How To Help The Hurricane Matthew Victims In Cuba
This weekend, a category four hurricane — Hurricane Matthew — will make its way up the coast of the southeastern United States, potentially wreaking havoc on a number of coastal beaches and cities. While the hurricane has the potential to cause damage in the United States, it has already caused damage elsewhere — specifically in the Caribbean, where the hurricane made landfall on Tuesday night. For those who are lucky to be on higher and drier grounds, there is one major way to help the Hurricane Matthew victims in Cuba, where those affected are not fortunate enough to have access to supplies and funding like the United States.
Hurricane Matthew hit Cuba on Tuesday after causing heavy damage to Haiti, according to the Weather Channel. Parts of eastern Cuba have already received eight to 12 inches of rain while central Cuba has seen three to five inches of rain. According to NBC News, Hurricane Matthew has thankfully not caused too much damage to Cuba itself. Matthew only hit the "eastern tip of Cuba," knocking down "dozens of homes" in the city of Baracoa, located on the island's eastern tip. The damage, according to NBC News, amounts to "relatively little" with no immediate reports of deaths or injuries.
Still, some 35,000 residents in Cuba were evacuated and moved to storm shelters or to higher ground, Cuban officials told NBC News. And just because there are no reported deaths or major damage done to Cuba does not mean that the country does not need help. Hurricane relief efforts are costly and take up a lot of time — therefore one of the easiest and best ways people can help is by donating money to these efforts.
While physically helping hurricane victims might be tough due to limited travel from the United States to Cuba, donations can help families in need to rebuild what they have lost.
The Red Cross currently has teams in the Caribbean, including Cuba, assessing the damage caused by Hurricane Matthew and helping out wherever it can. Monetary donations can be made to the Red Cross on its website; you can also text the word REDCROSS to 90999 to make a $10 donation to the organization.
Oxfam is also currently working to coordinate with the government to respond to the damage and develop a recovery program. Oxfam has experience in Cuba — the organization has been working there for over 20 years and is prepared to evaluate the damage immediately. Donations to Oxfam's relief funds can be made on its website.
UNICEF is also currently accepting donations to help the 6 million children in the storm's path, in places like Cuba and the Caribbean. According to USA Today, Cuban relief efforts made by churches and relatives in Florida will not be able to respond to the tragedy in Cuba until Hurricane Matthew passes, but will begin to help with the recovery in Baracoa when they are able to send aid.
Although there are limited options to helping Cuba during this time of devastation, keep in mind that relief efforts are just now getting under way — more charities and organizations will be needing donations to help rebuild homes in the coming days, so if you haven't pitched in yet, don't worry. You've got time.