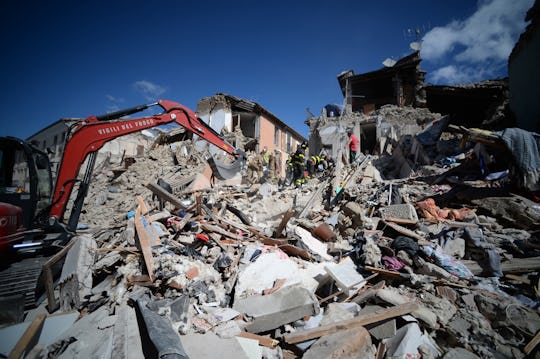 FILIPPO MONTEFORTE/AFP/Getty Images
How To Help The Italy Earthquake Victims, Even If You're Not In Italy
A magnitude-6.2 earthquake struck central Italy early Wednesday morning, flattening whole towns in the mountain region. Amatrice Mayor Sergio Pirozzi has been quoted as saying that half of the town "doesn't exist anymore," according to the International Business Times. Luckily, there are ways to help victims of the Italy earthquake. Those in Italy are encouraged to donate blood (Roman travel blogger The Smartraveller has helpfully tweeted a list of local hospitals). Facebook has activated its Safety Check feature, and survivors of the earthquake are encouraged to let their loved ones know that they're safe.
The earthquake hit just a few miles southeast of Norcia, according to CNN, which is about 100 miles north of Rome, at 3:36 local time (9:36 Tuesday night Eastern Time). The worst of the damage is centered in the small towns and villages of Cascia, Maltignano, Pescara del Tronto, Accumoli, Saletta, Amatrice, and others. The area is a popular summer travel destination, and Amatrice was set to hold a festival this weekend. Twelve hours after the initial quake, 63 are confirmed dead, but countless victims are still buried in the rubble, and officials are unable to estimate how many are still trapped. The Italian state police tweeted video of some of the damage:
Rescue efforts are hampered by the fact the the mountainous terrain makes it challenging to access the small towns; many are only accessible through local roads, which have been blocked by debris. A bridge leading to Amatrice has been declared unsafe, according to NBC News. The earthquake has also caused landslides on the mountains. Residents of the remote area were reportedly digging out their neighbors with their bare hands as they waited for rescuers to arrive.
Local schools are also accepting donations of food, water, medicine, and blankets. Those in the area who have WiFi are encouraged to remove their password protection to allow others easier access to the internet so they can communicate their safety. The Italian Red Cross is now on the ground in the most affected areas, bringing with them nearly 200 volunteers, ambulances, mobile kitchens, canine units, and psychological support teams. They are accepting donations. Local newspaper La Stampa is also accepting charitable contributions and has set up a fund specifically for the earthquake victims. It's an unbelievable tragedy, and people half a world away can feel powerless to help, but every little bit counts. Even a few dollars is better than nothing.