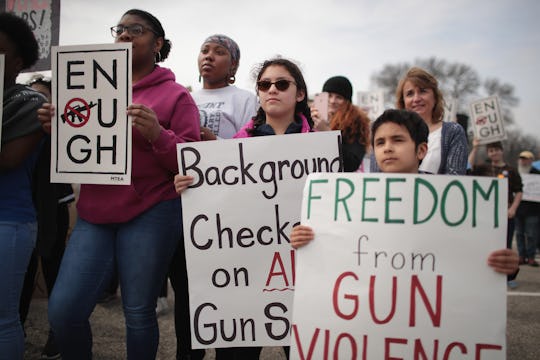 Scott Olson/Getty Images News/Getty Images
How You Can Help The Jacksonville Shooting Victims & Their Families
On Sunday, Aug. 26, a gunman opened fire at the Madden 19 Tournament in Jacksonville, Florida. As details continue to unfold and the world continues to grapple with the news of yet another senseless tragedy, you may be wondering how you can help the Jacksonville shooting victims and their families now and in the days to come.
According to CNN and a tweet from the Jacksonville Sheriff's Office, the shooting — which occurred at a video game tournament held at GLHF Game Bar that's located within a large dining and shopping center, The New York Times reported — has left "multiple" people dead and a number more were taken to nearby hospitals. On Sunday evening, Jacksonville Sheriff Mike Williams confirmed to reporters, according to CNN, that two people were "fatally shot." As the BBC reported, 11 others were injured.
In the aftermath of such a tragedy, many are understandably left in shock and horror, wondering how this has happened again. The shooting in Jacksonville adds to the more than 154 mass shootings in the United States this year alone, according to a June report Business Insider. It's easy to feel helpless and hopeless in a time like this, but there are things you can do to assist victims of Sunday's shooting in Florida and be proactive in helping invoke change.