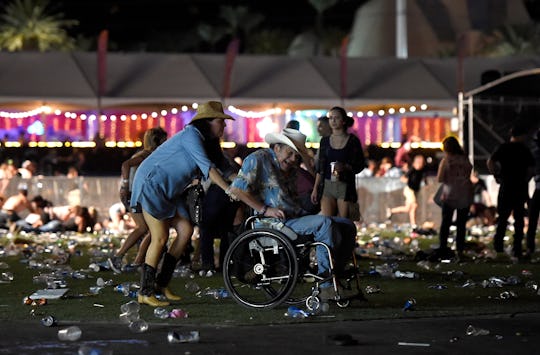 David Becker/Getty Images News/Getty Images
How To Help The Las Vegas Shooting Victims, Because They Need Support
On Sunday evening, a gunman opened fire on attendees of a country music festival from the 32nd floor of the Mandalay Bay Resort and Casino. More than 50 people are dead and more than are 400 hospitalized in what police are now calling the deadliest shooting in United States history. Police have said they are not investigating the incident as terrorism, despite the fact that the mass shooting qualifies as terrorism under Nevada law, according to The Independent. The shooter reportedly used a high-caliber assault weapon and had more weapons stored in his room at the resort, according to Reuters. Still, placing all of these frustrating and terrifying facts aside, it's critical that we turn to helping the Las Vegas shooting victims; they and their families are in need of support and will continue to need it for months to come.
Update: As of 6 p.m. ET on Monday, Oct. 2, CNN reports that 59 people have died and over 500 people were injured. Authorities say the suspect had 18 additional firearms, explosives and several thousand rounds of ammo at his home in Mesquite, NV.
The shooter — who I will not name in this article because it is not about him — was a longtime resident of Mesquite, Nevada, according to Reuters. After firing what eyewitnesses have described as hundreds of rounds into the crowd, the shooter was shot and killed by police. Clark County Sheriff Joseph Lombardo said police are still trying to identify his motive, but that they "have no idea what his belief system was," in a tone-deaf statement that implies that only certain religious beliefs could drive someone to commit an atrocity of this size.
For anyone who has social media, both Twitter and Facebook are covered with graphic images and videos of the dead and wounded lying in the streets of Las Vegas. Some are being held by the people they love. These are the people who we need to turn to now. Here are a variety of ways you can help the Las Vegas victims, including those who were killed, the wounded, the survivors, and their families.
Give Blood If You Live Near The Area
Giving blood after a tragedy of this size is critical, because often it can mean life or death for the wounded. Hospitals in the area will be strained because of the size of this attack, and blood will be needed in the weeks and even months after to help those with severe injuries.
Do Not Share Graphic Photos & Videos Of The Crime Scene
Sharing graphic photos and videos of the scene of a terror attack or mass shooting does two things: first, it legitimizes the attacker, and can inspire copycat attacks, according to NBC News. A 2015 study found that mass shootings and school attacks inspire copycat killings, particularly in the weeks following the shooting, when people are sharing a lot of videos of the attack and information about the shooter is often the first thing you see on TV every day. The way that we treat mass shootings, particularly in the media, can glorify the killer and erase the victims. It's important not to contribute to that culture, and to instead share information about the victims as it comes out in the coming days.
Donate To The Local Red Cross Chapter
The Southern Nevada Red Cross will help provide medical support for victims and ongoing support for the families and communities affected by Sunday's attack. To donate, go to this link. Also, the Red Cross is helping people locate their missing loved ones. Share the telephone number 1-866-535-5654 on social media if you have any connections to Nevada or the Las Vegas area or could know someone affected.
Donate To Victims' & Their Families' GoFundMe Pages
After mass attacks or tragedies, friends and family of those affected often set up crowdfunding accounts on the verified site GoFundMe. Here is the GoFundMe homepage, where fundraising pages for recent mass tragedies are often featured once they are up and running.
Update: Clark County Commission Chair Steve Sisolak and County Sheriff Joe Lombardo set up a GoFundMe to help victims and their families, according to TIME Money. To see and donate to the fund, go to this link. As of 6 p.m. Eastern Time Monday, the fund had already raised $1.2 million of its $2 million goal.
Going Forward: Support Gun Safety Legislation
No, I am not advocating that someone take away everyone's weapons. There's a constitutional right that prevents that. Instead, I'm saying that we need to change the state of gun safety legislation in this country. First, there is no gun registration in the entire state of Nevada, according to state website Nevada Carry. Also, The Independent correspondent Jon Stone reported that it is legal to carry an assault rifle in Nevada while intoxicated, and there is also no maximum magazine capacity. Though firearms can be carried openly on public school properties in the state, they are not permitted to be carried openly in legislative buildings. Federal law prohibits firearms in any federal facility, meaning lawmakers would like to feel safer than they would like our children to feel at school.
If you want to support common sense gun safety legislation, like the majority of the population and like most of gun owners — despite what the NRA would like us all to think — call your representatives and senators ASAP to demand that they support gun safety legislation. Most gun policy happens at the state level. Take, for instance, this recently-introduced Wisconsin bill that would allow felons to have "antique firearms," after felons said it wasn't fair that they couldn't use firearms to hunt, according to The Sacramento Bee. To find your elected officials, visit this link.
Still, as the result of NRA lobbying efforts and NRA support of Republican officials, the Centers for Disease Control and Prevention cannot spend funds on any research that could "advocate or promote gun control," according to the Los Angeles Times. The NRA lobbied for the bill, called the Dickey Amendment, after the CDC released research that found that having firearms in a home could greatly increase the risk of homicide, and thus the CDC has not been able to further study the issue.
We can do better than this. We can provide support to the victims of Las Vegas, but we also need to take action so that we don't have to provide similar support — maybe to more people, because mass shootings in the U.S. are only getting bigger — in the future.
This post will be updated with donation and volunteer information as more becomes available.