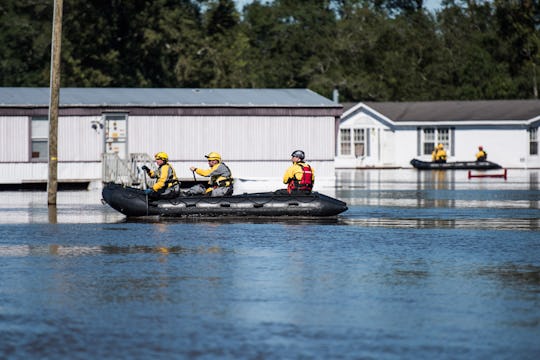 Sean Rayford/Getty Images News/Getty Images
How To Help The People Trapped In The North Carolina Flooding
The damage from Hurricane Matthew continues to devastate North Carolina, with the state experiencing massive flooding. As the death toll climbs, hearts across the country go out to those affected. But sometimes sending heartfelt sentiments just isn't enough — so here's how to help the people trapped in the North Carolina flooding., if you're looking to lend at least one small portion of the storm's many victims.
Hurricane Matthew, which devastated Haiti on its way to the United States, caused damage and casualties in Florida, South Carolina, and Georgia, but it hit North Carolina hard, with the flooding causing at least 11 deaths in the state and stranding 1,500 people. And according to the National Weather Service, the damage isn't over yet. Major flooding could continue into next week. Meanwhile, many have fled their homes, and many who have stayed are trapped due to impassable roads, in some cases without power. Lots of property has been damaged, meaning that victims will be dealing with the ramifications long after the water goes back down.
For those at home wanting to help out, there are plenty of organizations on the ground who could use donations. One is the North Carolina Community Foundation, which has a Disaster Relief Fund that supports non-profits that are helping hurricane victims. All money raised will go directly to the non-profits that are deemed to provide the "best relief" for those affected by the flooding.
The Salvation Army is also on the ground, sheltering and feeding people who have been forced out of their homes. As the organization says on its website,
During the initial response, shipping clothes, food, and other materials from around the country is simply too difficult, especially if the local roads and infrastructure are damaged. That's why financial gifts are always the best way to help in the immediate aftermath of a disaster.
Those wishing to donate can do so on the organization's website. People in the area can also sign up to volunteer.
The Red Cross is also helping flooding victims, and looking for both financial donations and volunteer assistance. The organization says that, at the moment, "volunteers are making sure basic needs are being meet, providing food, shelter and mental health services."
And for those hoping to help any pets that may have been hurt in the flooding, PETA is slogging through the waters to help the animals.
Of course, spreading the word is always helpful too, especially if you're not near North Carolina, but know people who are.
And consider sending aid to the people who've been affected in other places too, like Haiti, where the death toll has reached 1,000, and the governmental support in recovery efforts will likely be much less than what the United States can give North Carolina.