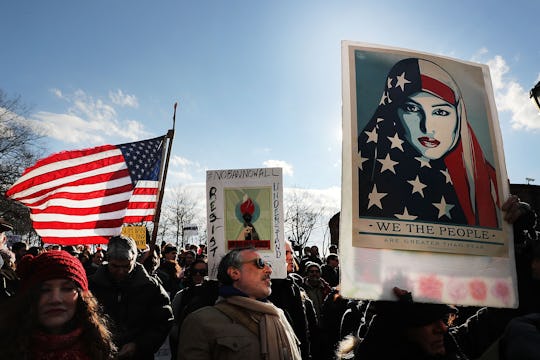 Spencer Platt/Getty Images News/Getty Images
How To Help The Quebec Mosque Shooting Victims
Six people have died and many more injured as the result of a shooting at a mosque in Québec City. The gunman opened fire during the mosque's evening prayer service. Canadian officials have clearly indicated the shooting as an act of terrorism against the Muslim community. The tragedy comes amidst tumultuous times for Muslims in the U.S., many of whom spent the weekend detained in airports. If you're wondering how to help the Québec mosque shooting victims, even if you don't live in Canada, here are a few ideas; many of which will also help you support Muslim communities wherever you happen to live.
In the wake of President Trump's thinly veiled Muslim ban, thousands of Americans have protested throughout airports in the U.S., and have demonstrated solidarity with the Muslim community. After President Trump signed the executive order for "extreme vetting" of Muslim immigrants, Canadian Prime Minister Justin Trudeau denounced the order, and made a point of saying that refugees were welcome in Canada.
In the hours following the attack on the Centre Culturel Islamique de Québec, authorities arrested two suspects who were involved in the attack. Several Canadian news outlets have reported that law enforcement are still seeking additional accomplices, but that the two men in custody are the only individuals they believe were involved in the shooting. At least one of the men was armed with an AK-47 assault rifle.
Trudeau immediately issued a statement condemning the attack and sending his — and by extension the Canadian government's — support to the victim's families:
Muslim-Canadians are an important part of our national fabric, and these senseless acts have no place in our communities, cities and country. Canadian law enforcement agencies will protect the rights of all Canadians, and will make every effort to apprehend the perpetrators of this act and all acts of intolerance.
The shooting came at the end of a weekend of solidarity with Muslim communities throughout the U.S., where thousands of people flocked to airports to protest the immigration ban set forth by the Trump administration. Lawyers from the American Civil Liberties Union and elsewhere worked pro bono from inside airports in Washington D.C., Boston, and New York City, and other U.S. cities helping those who had been detained.
The attack in Canada is a grim reminder that Islamophobia is still rampant, and we all must stand in unity and decry these acts of terrorism. Aside from continuing to protest and donating to places like the ACLU that are working hard in the states to keep Muslim communities safe and demand justice, you can still help the victims of the shooting in Québec City even if you live in the U.S. or abroad.
Reach Out To The Islamic Center Of Québec
While the community is probably in a state of shock, chaos, and grief at the moment, consider reaching out to the center directly to find out what it needs. It will also likely use its website and any newsletters it circulates to let people know what the victim's families need and keep the public abreast of any vigils, fundraisers, or other events that will be happening in the coming weeks. You can also get information on how to donate to the Islamic Cultural Center. While the website is in French, you can use Google Translate to help you navigate the page to grab the center's address.
Hold Vigils In Your Community
If you're in Canada, several vigils throughout Québec City and beyond are already popping up on social media. Universities and social justice groups like Occupy Canada have planned vigils as well. You can use Facebook, Instagram, Twitter, and other social media to find out where and when the vigils are being held. If you don't live in Canada, you can still show your support by organizing solidarity vigils in your community or sharing information about the vigils being held on your own social media accounts.
Support Organizations That Help Victims Of Crime
In addition to helping victims of specific acts of violence, also consider supporting the organizations that help victims of crime in the broader sense, too. Unfortunately, these acts of terror and violence are not isolated, and they will continue to happen until major political and social reform occurs. Places like the Canadian Resource Centre for Victims of Crime offer financial assistance for people and families who have been victims of violent crime.
Call Out Islamophobia In Your Government & Community
Don't stay silent about the racial prejudices that are endemic to society, and are now being actively promoted by the U.S. government. Use your platform to speak up. Lend your skills, whatever they may be, to groups that are organizing and mobilizing. Protest however you can. That doesn't have to mean marching, which not everyone is able to do. If you aren't able to physically participate in protests, think about what you can offer. Could you design signs or shirts for protestors? Can you share information on your blog, YouTube channel, or Instagram account? Do you know people in your community, at your school, or job who may volunteer their time or skills to help? Can you donate a little money or help fundraise?
It might feel like there's little you can do to make a difference, but everyone has something to offer. It's not enough to just help the victims of these attacks, which will no doubt continue now that the government is encouraging racial profiling. We have to unite and work together to keep our Muslim friends, neighbors, and community members safe, and prevent these types of attacks from happening at all.