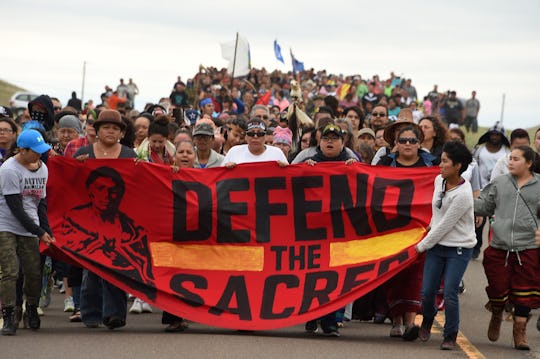 ROBYN BECK/AFP/Getty Images
How To Help The Standing Rock Protesters In Addition To Showing Solidarity On Facebook
Protests have been spreading across the country over the construction of a pipeline on Native American land. The pipeline would be built underneath the Missouri River, which is the only source of drinking water for the Standing Rock Sioux, a Native American tribe based in North and South Dakota. Here's how to help the Standing Rock protesters outside of just checking in on Facebook.
The pipeline is, the protestors claim, putting the natural resources of Native people in danger. The Pipeline and Hazardous Materials Safety Administration has reported that, since 2010, more than 3,300 leaks and ruptures of oil and gas pipelines have occurred across the nation. And in August, an oil leak was discovered in North Dakota at a different pipeline. If even one leak occurs, more than 10,000 tribe members' water supply will be put in jeopardy. The land is also home to tribal burial grounds, which were apparently sold to Dakota Access project owners.
Earlier this year, the Standing Rock Sioux established the Stone Rock Camp "as a center of spiritual and cultural opposition to the Dakota Access pipeline, and is determined to stop construction through prayer and non­violent direct action," according to the Sacred Stone Camp's website.
The tribe is demanding that construction on the pipeline stop because an Environmental Impact Statement — which is required under the National Environmental Policy Act — was never conducted. Doug Hayes, a staff attorney at the environmentalist organizer Sierra Club, said in an interview with The Huffington Post that the proper steps weren't taken:
To put a finer point on it, the tribes are concerned about, among other things, water quality, and no agency has ever analyzed the risks or impacts of oil spilling from this pipeline, in any state of review. Not a single word.
Kelcy Warren, chairman and CEO of Energy Transfer Partners, wrote in a memo that worries about the pipeline possibly leaking into drinking water sources are "unfounded," The Wall Street Journal reports. Warren continued:
We — like all Americans — value and respect cultural diversity and the significant role that Native American culture plays in our nation's history and its future and hope to be able to strengthen our relationship with the Native American communities as we move forward with this project.
For many of us across the country, the Dakota Access pipeline, as well as the treatment of protestors, has been a great injustice. For those who want to support this protest, you can make a contribution to the Standing Rock Sioux Tribe DAPL Donation Fund here.
The Sacred Stone Camp also has a GoFundMe page, which has passed more than $1 million in donations.
Cash or check donations can also be mailed to this address:
Sacred Stone Camp
P.O. Box 1011
Fort Yates, ND 58538
Tensions rose after heavily armed police arrested more than 100 protestors last week. If you would like to cover the legal defense of Dakota Access protestors, you can contribute to the Sacred Stone Legal Defense Fund here.
If you can't contribute money, you can also donate supplies to help protestors. Top needs include fire wood, snow tires, and sleeping bags. A full list can be found here, and the Sacred Stone Camp has even created an Amazon Wishlist.
Jurisdiction over oil pipelines doesn't belong to the federal government. However, a White House petition was created — and received more than 280,000 signatures — so that the White House could review the issue again before construction began. The Obama Administration blocked construction on the pipeline in September, but a federal court allowed construction to resume in October.
You can also sign a petition to revoke the permits of Energy Transfer Partners, the company constructing the Dakota Access Pipeline. If you would like to contact Energy Transfer Partners directly to voice your concern about the pipeline, here is the contact information for the company's executive vice president.
Lee Hanse Executive Vice President Energy Transfer Partners, L.P.
800 E Sonterra Blvd #400 San Antonio, Texas 78258
Telephone: (210) 403-6455 E-mail: Lee.Hanse@energytransfer.com
For those who want to protest but don't live near the Stone Camp, protests have recently started occurring in cities such as San Fransisco and New York City.
Our Revolution, which wants to empower Americans to fight for democracy, has a petition to ensure Democratic presidential candidate Hillary Clinton opposes the Dakota Access pipeline.
Even just talking about the pipeline is important. Many who feel passionate about the issue are upset that there hasn't been more media attention on the issue. The more you talk about it, the better chance a solution can be brought to this injustice.