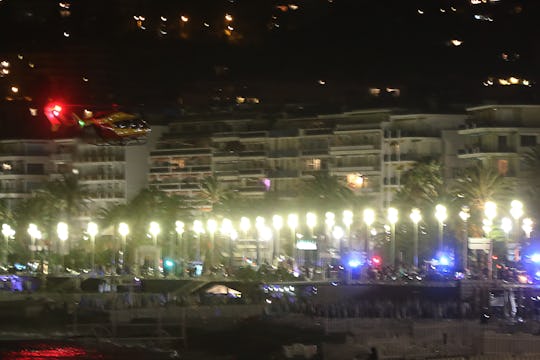 VALERY HACHE/AFP/Getty Images
How To Help The Victims Of The France Bastille Day Attack
The world bore witness to yet another tragedy on Thursday, as news broke that a truck in Nice, France had plowed into civilians after a Bastille Day fireworks celebration, killing at least 77. Many in the international community are now wondering how to help the victims of the Bastille Day attack. There are various avenues for aid, and many more are sure to emerge in the coming days.
Update: French President Francois Hollande announced Friday that the death toll had risen to 84 and at least 50 people were in critical condition "between life and death," according to ABC News.
If you prefer to send a donation to a French aid organization rather than international organizations, a good place to start is by contacting Give For France, a fundraising campaign initiated by the Fondation de France, a French charity founded in 1969 that is the country's largest grant-giving organization. Give For France, which corresponds to the #GiveForFrance hashtag, began after the November 2015 terrorist attacks in Paris. It's likely that the hashtag will be used again in this unfortunate new context.
Fondation de France has a United States affiliate, Friends of Fondation de France. According to its website, the Friends of Fondation organization "offers American individuals, foundations and corporations a faster, easier and less costly option for donating to French charities active in education, culture, social services, health, medicine, science and the environment." Friends of the Fondation was a collaborator on the Give For France campaign.
Other organizations that offer aid to victims and their families include the French Red Cross, and Catholic Relief Services. A good resource for the international community is the United Nations Victims of Terrorism Support Portal, an online hub started by the UN's Symposium on Supporting Victims of Terrorism with the intent of establishing a "virtual networking, communication and information hub for victims of terrorism," according to its website. The website includes a directory of organizations that support victims of terrorism.
When choosing where to send a donation, remember that after the 2015 Charlie Hebdo attack, The Federal Bureau of Investigation released a warning about the "potential for fraudulent solicitations of donations for victims." More recently, the Internal Revenue Service (IRS) released a warning about fake charity scams after the terrorist attack in Orlando. A great place to check the validity of a charitable organization is CharityNavigator.org, which ranks the transparency of organizations and tracks fake charities. Also, be wary of crowdfunding campaigns like those hosted on GoFundMe. Most are legitimate, but some, unfortunately, are scams.
For the social media-inclined, tracking relevant hashtags on Twitter, like #PrayForNice and #GiveForFrance, is a fast way to find emerging fundraising campaigns. As the days pass after this horrible tragedy, it's a sure bet that individuals and organizations around the world will do what they can to help.