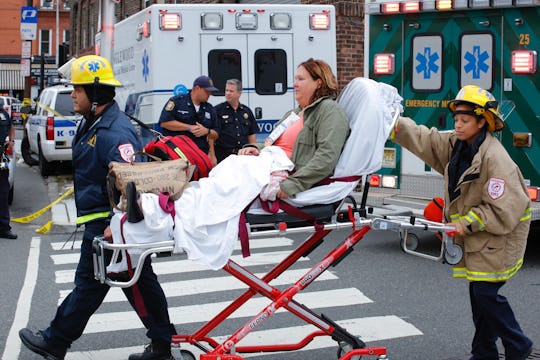 KENA BETANCUR/AFP/Getty Images
How To Help The Victims Of The Hoboken Train Crash Victims, No Matter Where You Live
In the aftermath of a train crash at Hoboken Station in New Jersey Thursday morning, emergency response teams from throughout the state and neighboring New York City are on the scene to help more than 100 people who have been injured. Even if you don't live in the greater New York City area, you might be wondering how to help the victims of the Hoboken train crash. Here are a few suggestions.
If you're local to Hoboken, stay clear of the station and the area surrounding it. Emergency response teams from hospitals throughout the state, as well as New York City (which is just five miles away) are making their way in to the scene to provide aid. Ambulances, police cars, and fire trucks will be trying to get to and from the location. Any additional traffic, cars, or people, will only make it more difficult for them to enter and leave the already chaotic scene.
Refrain from calling local emergency rooms unless you are looking for a family member. The hospitals who responded have set up helplines so that families can call if they are looking for someone who was at the station or on the train. No doubt the people working the helplines will be fielding a lot of frantic phone calls, so don't call out of curiosity or to try to get information unless you are looking for a family member.
If you're local to New Jersey or New York City, you can also donate blood. Check to find the closest donation center through the Red Cross website, or, if you're in New York City head over to the New York Blood Center.
Even if you don't live in New Jersey or New York, donating blood can still help in the aftermath of a mass casualty event when pints of blood are in high demand — especially if you're type O, the blood type that can be given to anyone.
After a serious injury, the recovery can be very long and painful — not just for patients, but for their families, too. Often this means a person can't work and they may not be able to get disability benefits. Visiting nurses and physical therapists often help patients recuperate at home, especially if they have lost the ability to walk or have had a major injury to a limb. Donating to these organizations helps ensure that they have enough staff to meet demand.
Local food banks, homeless shelters and houses of worship are also among the first to respond to a crisis in their community, so find out if any of your local organizations are having food drives, taking donations, or providing support to families affected by the tragedy. These individuals may be left unable to do things like work, prepare meals, or get a ride to a doctor's appointment.
It's also worth noting that the Hoboken Terminal is a 100-year-old historic landmark, and it has been seriously damaged by the crash. There may be efforts in the near future to raise money or create volunteer opportunities around repairing it.
Just after noon on Thursday, New Jersey Gov. Chris Christie said that all passengers who were on the train have been removed and taken to hospitals in the surrounding area. A spokesperson from the Hoboken University Medical Center — one of several hospitals that responded to the crash — said, of the 22 patients they received, some have already been released with minor injuries, several have fractures but are listed as being in stable condition, and one person may be admitted to the hospital for further care, although they are not listed as critical at this time.
The investigation into why the crash occurred is ongoing.
This story is developing. Ss more information about the victims of the crash is released, charitable funds for the families will no doubt pop up. We will update when they do.