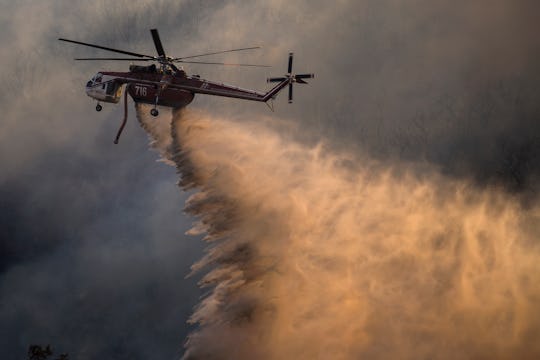 David McNew/Getty Images News/Getty Images
Here's How To Help Victims Of The Wildfires, Because Some Have Lost Everything
Over the weekend and early into this week, wildfires burning throughout northern California left at least 11 people dead and tens of thousands evacuated from their homes. And this season's devastating fires haven't been limited to one state alone: unfortunately, fires have also continued to burn in Montana, Washington, and Oregon, leaving millions of acres of land scorched throughout the United States' West Coast. Watching footage of the wildfires burn can make anyone feel rather helpless — but fortunately, there are several ways to help the wildfire victims.
While California's wildfires are the ones currently on the public's radar thanks to the widespread damage they've caused in the last few days, states of emergency were declared in both Montana and Washington just weeks ago, and cities continue to grapple with the fallout from wildfires that raged on throughout the summer. According to NBC News, 2017 has been the most expensive firefighting year in history, with a record $2 billion spent on forest fires this season.
Between the more immediate help necessary for evacuees and the donations needed to help affected cities rebuild, there's plenty of need for assistance across the West Coast.
Donate To Organizations That Are Helping Rebuild
Donations are easily one of the best ways to help out quickly and effectively during a crisis, since the money goes directly towards existing relief efforts without any transportation or customs costs. A few organizations working on wildfire relief include:
Help Out Locally If You're In The Area
If you're in one of the areas affected, you can help out on the ground, as well.
It's been a bad year for much of the west coast due to wildfires, but with a little help from everyone, the recovery can be a bit swifter. Even if you can't donate at the moment or if you can't help out locally, make sure you share with others who may be in a place to.
Watch Romper's new video series, Romper's Doula Diaries:
Check out the entire Romper's Doula Diaries series and other videos on Facebook and the Bustle app across Apple TV, Roku, and Amazon Fire TV.