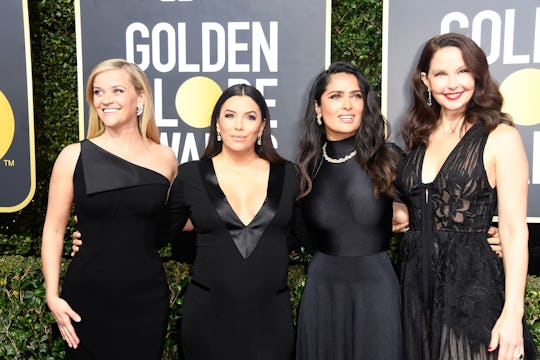 Frazer Harrison/Getty Images Entertainment/Getty Images
How To Help #TimesUp After The Golden Globes, Because There's More Work To Do
This year — as Oprah Winfrey so perfectly said at the 2018 Golden Globes — "we became the story." The passion she embodied in those four small words is running through everyone watching tonight. As eight powerful activists walked alongside eight of Hollywood's finest. As the red carpet was draped in black gowns to make a symbolic statement about sexual harassment in Hollywood and beyond. And as countless stars vowed that "time is up." Things were different this year, you could just feel it, because the Golden Globes were empowering and it's such a refreshing, deserved change that helping the #TIMESUP movement after the Golden Globes can only keep this momentum going.
There were so many moments to celebrate from tonight's Golden Globes. The Handmaid's Tale won its first Golden Globe with Elisabeth Moss taking home Best Actress in a Drama, using her acceptance speech to pay tribute to Margaret Atwood and those who "were brave enough to speak out against intolerance and injustice and to fight for equality and freedom in this world." HBO's Big Little Lies star Laura Dern made an impassioned call-for-action for parents to teach their children to speak out "without fear of retribution." Oprah Winfrey was the recipient of the Cecil B. DeMille lifetime achievement award and commemorated her win with an inspirational, uplifting speech about the fight for equality and justice.
"For too long, women have not been heard or believed if they dare speak the truth to the power of those men," Winfrey said. "But their time is up. Their time is up."
There are plenty more moments to feel empowered by, but even just that small sampling of what happened at this year's Golden Globes is enough to make you feel unstoppable. Make you feel heard. Make you feel like you can conquer whatever it is that you're battling right now. Make you feel like the Time's Up movement is worth supporting and fighting for.
As Monday morning comes and headlines change to a typical sense of "ugh," you can keep this feeling, even when these empowering moments have taken a backseat. You don't have to be a celebrity to be a part of this historic movement — Time's Up aims to help fight sexual harassment and assault in workplaces across the nation and the funds people donate will be used to help lower-income women and men afford a lawyer so they too can pursue their cases. Here's how you can help.
Get Involved & Take A Stand
This year's Golden Globes were all about female empowerment and taking a stand against injustices that haven't been listened for too long. The Golden Globes helped bring awareness to the #MeToo movement and #TIMESUP, an initiative backed by hundreds of women in Hollywood aimed at fighting sexual misconduct in all workplaces across the country, according to The New York Times.
You can take a stand, too. Aside from sharing the hashtag on Twitter, you can attend a rally for this year's Women March, for example, on Jan. 21. Make your voice heard, raise awareness for the movement, and speak out for those who can't.
Say "Time's Up"
"Time's up." It's the saying of 2018 and should be shouted from the rooftops. But now that the Golden Globes are over and everyone's black dresses are stashed away in their closets, the message behind this saying can't fade away.
Beyond standing up about racial and gender injustices and calling out power inequalities, you can help #TIMESUP keep the momentum it needs to make a true difference and say "time's up" with your wallet. You can start by making a donation on TIME'S UP GoFundMe campaign, which has raised nearly $16 million since New Year's Day, or buying a TIME'S UP pin to wear as a symbol of your support and financially support the movement.
Keep Empowering More Women
Use social media to your advantage. Follow powerful women who are leading these changes, like Tarana Burke, the mother of the #MeToo movement or outspoken feminist celebs like Olivia Wilde, Emma Watson, or Ava DuVernay. Beyond keeping inspirational women in your news feed, use Twitter and Instagram to listen to other women's stories and share your own if you feel inclined. Stand behind women when they're faced with a difficult decision or a daunting dilemma, even if it's just liking a post. Follow women who are using #TIMESUP in their posts — they have something to say.
Social media can be a community and it enable more activism. After all, it's what led to the movements and changes we're seeing now. Keep using it.
Seize The Opportunity
As Cherylyn Harley LeBon — a former legislative aide and counsel in the House of Representatives and Senate — told CNN, there is no better time to stand behind women calling out those being accused of harassment than right now.
"I am glad women have the courage to tell their stories and recount years of painful abuse. Despite what others allege, they don't do it for publicity. We are simply fed up," LeBon told CNN. "It's our obligation to share that news and by doing so, if we can spare another woman from enduring what others have — even better!" In other words, #TIMESUP.
Rising up and forcing these issues into the mainstream — either by sharing a well-sourced and factual article, attending a protest, or simply listening to another woman — you can enable yourself to keep feeling empowered, even after all the glitz and glam from the Golden Globes has fizzled away.
Check out Romper's new video series, Romper's Doula Diaries:
Watch full episodes of Romper's Doula Diaries on Facebook Watch.