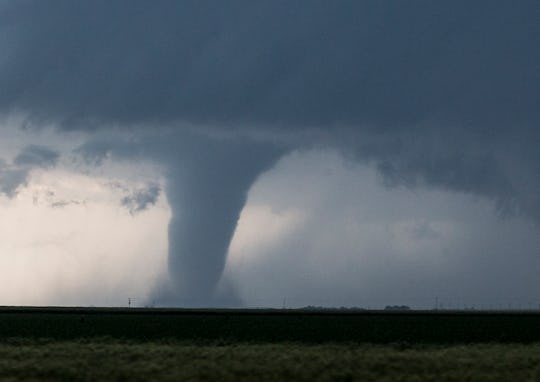 Brian Davidson/Getty Images News/Getty Images
How To Help Tornado Victims In Dodge City, Because Everyone's Efforts Make A Difference
On Tuesday, after four days of tornado warning, several tornadoes tore through Kansas, but a particularly large and dangerous tornado (an EF-3) touched down near Dodge City, a town with a population of 27,000. The good news is that, according to Ari Sarsalari, a meteorologist for The Weather Channel, the Dodge City tornado "just, and I mean just" missed the center of downtown; however, that doesn't mean there weren't multiple injuries – including two critical injuries — and it doesn't mean there wasn't significant damage. But what can you do to help tornado victims in Dodge City, not only those victims who were injured but whose property was damaged?
Well, a good place to start is with perhaps the most infamous nonprofit, the American Red Cross. The Red Cross accepts monetary donations, blood donations, and donations of time, and according to the Kansas chapter, "an average of 91 cents of every dollar the Red Cross spends is invested in humanitarian services and programs." (Which means that, if you are offering financial support, you can rest assured your money is going to the right people, and the right places.)
What's more, many cities affected by natural disasters set up local fundraisers and/or share a list of what sort of assistance they need most. While Dodge City has yet to share that information, that does not mean they do not need help, especially since Brad Guay, a meteorologist who is a field assistant with the Center for Severe Weather Research, said described the tornados as "impressive" to a local FOX affiliate.
The dual tornadoes in the photo (he posted on Instagram) were very impressive. I've never seen that in person before, and it's unusual to have that occur...[t]he storm was incredible.
And since interim Ford County administrator J.D. Gilbert shared that, not only were several Dodge City residents injured, the county's landfill building was destroyed.
The good news is it could have been worse, much worse because not only was a severe weather warning issued — and in adequate time — according to Sarsalari the fact that this was "very close call" for Dodge City, and not a direct hit, is the reason many residents survived.
Sarsalari added the twister was "very violent," with had very large hail.
(I mean, just look at this monster!)
So remember, regardless of how you choose to help — or how much you can, or cannot, donate — every penny helps. And there is no such thing as a "little" donation.