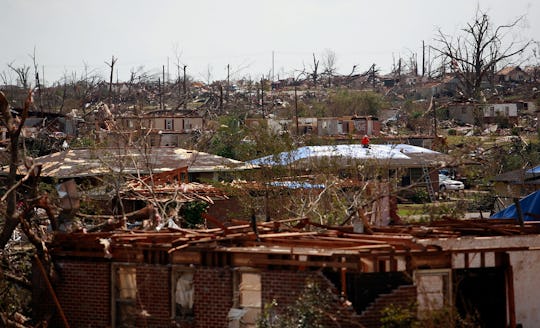 Tom Pennington/Getty Images News/Getty Images
How To Help Tornado Victims In The Great Plains, Because Efforts To Rebuild Need Support
A massive weather system devastated the Great Plains over the weekend and into Monday night, causing severe thunderstorms, four-and-a-half inch hail, and more than 20 separate tornadoes, according to NBC News. Oklahoma was the hardest hit, where two people died on Monday. The storms also affected Arkansas, Nebraska, Iowa, Illinois, Colorado, Ohio, Texas, and Mississippi. Those wondering how to help tornado victims can reach out to the American Red Cross, which deployed an emergency response mobile unit on Tuesday to assist in recovery efforts. This is nothing new for the Red Cross; following a series of deadly Oklahoma tornadoes in May 2013, the organization rallied, raising more than $52 million for food, shelter, heath services, and rebuilding.
In addition to the two deaths reported, six people were reportedly trapped under debris in Garvin County, Oklahoma, and multiple homes were destroyed. According to the Associated Press (via NPR), one Nebraska man was unable to make it to his house before the storm hit, and had to ride it out while wrapped around a tree. In the end, it seems he was lucky to have not reached the house; it was later declared a total loss, as the roof and outer walls were eventually ripped away.
Though the worst of the storm is likely over, Accuweather expects the tornadoes, severe thunderstorms, flash flooding, and hail to last through Wednesday night in central Texas, Kentucky, Tennessee, Missouri, Illinois, Indiana, Ohio, and West Virginia, upping the potential for disaster. The National Oceanic and Atmospheric Administration has warned that the storm continues to track northeastward, and will likely intensify. "A tornado or two" are expected in the Ohio Valley. The Dakotas and Nebraska are at risk for "funnel clouds or brief tornadoes," while most other areas should skate by with thunderstorms, severe wind, and hail.
The Red Cross is in need of volunteers. The group is currently focusing on providing meals and emergency medical services to the Oklahoma tornado victims, reported local Fox affiliate KOKH. According to the Red Cross, 95 percent of their disaster relief workers are volunteers. These volunteers go beyond handing out blankets and bottled water; the organization also provides medical assistance and mental health support to people dealing with the aftermath of natural disasters, which is just as necessary for their well-being. Those who are unable to volunteer but still want to help are encouraged to donate to the Red Cross. An impressive 91 cents out of every dollar donated goes directly to humanitarian aid.