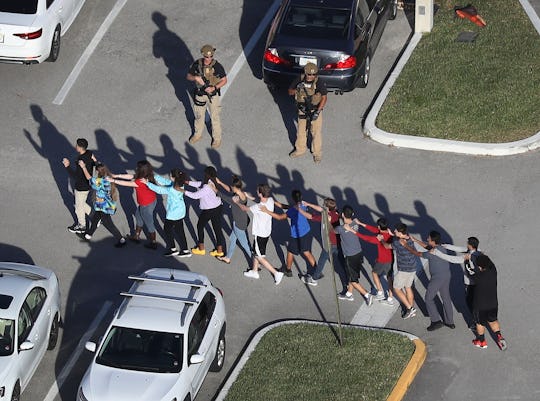 Joe Raedle/Getty Images News/Getty Images
Here's How You Can Help The Victims Of The School Shooting In Parkland, Florida
On Wednesday afternoon, a shooting at Marjory Stoneman Douglas High School in Parkland, Florida left at least 17 people dead and many more injured, various media outlets reported. The incident has rocked the local community and left Americans across the country devastated. It's already the 18th school shooting in 2018, according to the non-profit Everytown for Gun Safety, and people everywhere are mourning alongside those in Parkland. If you're feeling helpless but want to support those affected and their families, here's how to help victims of the school shooting in Florida.
Details are still unfolding of the tragic events that took place at Marjory Stoneman Douglas High School, but at least 17 families will be grieving the unexpected death of loved ones in the coming days. Several other students who were injured are still undergoing surgery in nearby hospitals, as NPR reported.
"It's just catastrophic," Broward County Sheriff Scott Israel said during a news briefing on Wednesday evening, according to The Washington Post. His own triplets had graduated from the same school in the past. "There really are no words."
For now, that's all the information the public has — but really, that seems like all we need to know in order to take action and support the victims of the shooting. Here are a few ways to do so.
If You're In The Area, Donate Blood
OneBlood, the local blood center in the area, said Wednesday that blood donations were needed following the Broward shooting. In a press statement, OneBlood wrote:
While the immediate blood needs have been met, there is a need to replenish the areas O negative blood supply. O negative is the universal blood type and is used to treat trauma patients.
Book an appointment to donate blood online, or find a local donation center or blood drive by using OneBlood's directory.
Donate To Fundraisers For The Victims & Their Families
Help ease the burden on the families of victims by donating to online campaigns. In the coming days, there should be multiple opportunities to donate to help ease medical and funeral bills, though you'll want to do your research to make sure you're putting your money toward a legitimate fundraiser.
Do Not Share Pictures Or Footage Of The Incident
The internet is a weird place, and there's always far too many pictures and videos going around in the aftermath of horrific events like this. Respect the victims and their loved ones by minimizing the sharing of those details. The only people those videos and images should be shared with is with the relevant authorities.
Volunteer For A Local Helpline — Or Send Them A Donation
Local helpline 2-1-1 Broward exists to help families in the area get the support they need, and the helpline relies on the help of volunteers who donate their time, skills, or cash. You can conduct outreach, help out with professional services (from social media to graphic design to tech work), or make calls to those who need a check-in. You can also donate directly to 2-1-1.
Support Organizations That Want To Keep Gun Violence Out Of Schools
Organizations like Moms Demand Action are trying to get common-sense gun reform across the United States. They're not anti-Second Amendment — but they're tired of seeing gun violence affect children. Join a local chapter, take action on a campaign, or donate to support the cause.
Advocate & Vote For Change
Regardless of your thoughts on the Second Amendment, there's a clear correlation between the availability of guns (and the looseness of gun laws) and the amount of mass shootings. Advocate for stricter gun control laws, and demand action from your representatives.
Tonight, the world will be mourning alongside the victims of the Parkland shooting. Hopefully, in the coming days, people will be able to help ease their pain — and work to ensure no other parent has to live through the same tragedy.