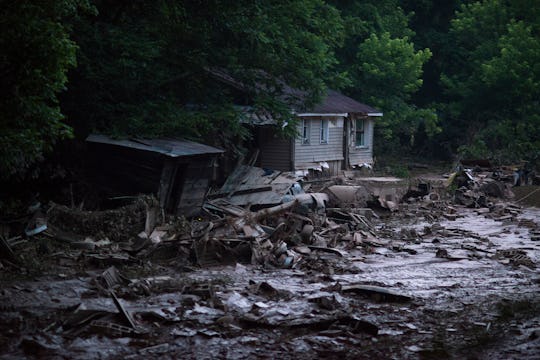 Ty Wright/Getty Images News/Getty Images
How To Help West Virginia Flood Victims In Need
Catastrophic rain storms caused devastating floods in West Virginia last week. But now, West Virginia faces new challenges — challenges that involve dealing with the aftermath of the floods. The flooding ruined roads and homes and there is so much that needs to be done. Luckily there are ways on how to help West Virginia flood victims from the comfort of your own home.
The image of a little boy standing in the mud, watching his parents try to salvage their possessions went viral on Facebook earlier this week. The boy and his family were victims of the West Virginia floods — which killed 26 people in the last week of June and caused devastating loss to the state of West Virginia. But something good came out of this little boy's tragedy — after receiving so much attention on the internet, it sparked an outpouring of support to help the boy and his parents.
But there are ways that others can help, too — regardless of whether or not they saw that Facebook post. Right now, West Virginia is going through the recovery process. But luckily, groups like the Red Cross are doing their best to ease that recovery period.
The Red Cross is one of the main charitable branches that are currently accepting donations to help with flood relief. According to the Red Cross, right now they are helping people cope, helping replace medications and prescription eyeglasses, and passing out much needed supplies to families once the roads become clearer.
You can donate money by visiting their website and specifying "West Virginia Floods" in the "Use My Donation To Support..." section. Or, you can text WVFLOODS to 90999 to make a $10 dollar donation straight to the Red Cross in flood relief efforts. This way, those wanting to donate don't even have to get off their computer to donate — since they're more than likely reading this on their computer.
There are so many more organizations that are accepting monetary donations and utilizing the money to help the victims in a variety of ways. Accordin to CNN, Americares is delivering relief supplies such as hygiene kits, insulin, and tetanus vaccines among other things with the monetary donations they receive. The Salvation Army and Save the Children are also accepting monetary donations at this time.
Can't find the right charity to donate your money to? The United Way of Southern West Virginia is currently asking for non-perishable food items, muck boots in all sizes and cleaning supplies — but there is one catch. The supplies must be donated in West Virginia. They are also accepting monetary donations if a physical donation is not possible.
For those who want to donate money in a more creative way, this one is pretty cool. West Virginia based brand, Kinship Goods, has created a T-shirt that will benefit the victims of the flood. All profits made from the $24 shirt (which is pretty dang cute) will go to relief efforts. Now that is pretty cool to me.
It is hard to see devastation on TV and computer screens but it is even worse to experience it first hand. Luckily, with the monetary help of those who are affected by these images, West Virginia can slowly recover and heal.