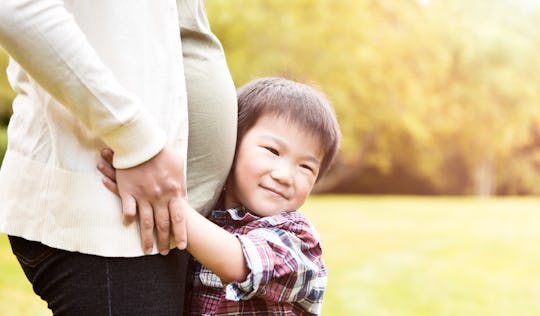 arek_malang/Fotolia
How To Hide Your Pregnancy From Your Kid Until You're Ready To Tell Them
The moment you confirm that little pink plus sign means that your family is growing, you'll probably be bursting to share the news with those closest to you. But whether you're worried about potential complications or how your child will handle the news about the arrival of a new little sibling, you may want to keep the news of your pregnancy a secret for a while. If you aren't quite ready to spill the beans, you'll want to know how to hide your pregnancy from your kid until you're ready to tell them.
You probably won't have to explain to your child why you're giving up wine for the next nine months, but you will have to answer questions about why you're always tired and why you can't climb to the top of the monkey bars. Children are inquisitive by nature, and if they notice anything outside of the norm then you'd better be prepared with an explanation. As you wait for the right moment to share your news, you may need to enlist a little help from your partner and your child's favorite electronic devices. And while you're at it, you may want to invest in a few baggy sweaters.
When the time is right, you and your partner will share the news of the coming addition to your family and your little one will be just as excited as you are about a new little sibling — at least until the baby arrives.