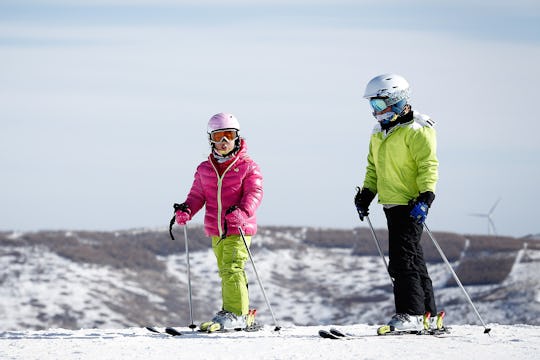 Lintao Zhang/Getty Images Sport/Getty Images
If Your Kids Want To Try Winter Sports, Here's How You Can Keep Them Safe
The Winter Olympics are here, and with all the snow around you, your kids are probably super inspired to get out there and play. You enjoyed all kinds of winter sports as a kid, without a worry in the world, but now that you are a parent, you can't help but worry about your kids getting hurt. Before you send your precious cargo out into the snow, you might wonder, how to keep kids safe during winter sports. While winter sports can be dangerous, as long as you follow these five safety tips for your little athlete, they should be OK and still have fun.
The favorite winter activity for my family is ice skating, but I'm sure that my kids will be begging to go skiing after watching Olympians zip and zoom through the lush, snow covered mountainsides. While these athletes might make snowboarding and skiing look like a piece of cake, they actually take a number of precautionary measures to keep themselves safe.
As with any children's sport, winter sports also require you to prepare your kids with the proper protection. And because of the cold temperatures and slippery ice and snow, you'll need to be a little more cautious. Pennsylvania pediatrician Dr. Jarret Patton tells Romper that with just a few protective measures and precautions, you can make winter sports much safer for your kids.