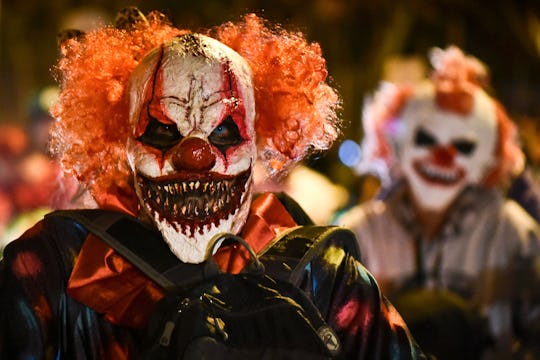 LUIS ROBAYO/AFP/Getty Images
How To Keep Your Kids Safe From Creepy Clowns This Halloween
According to Google, clowns are the ninth most searched Halloween costume of 2016. This may not have been cause for concern any other year, but 2016 has not really been a normal year. There have been an abundance of creepy clown sightings over the past few months. From unnerving sightings near playgrounds in South Carolina to an incident with a knife on a New York City subway platform, the creepy clown phenomenon has gotten out of hand. With Halloween and trick-or-treating approaching, it's natural for parents to be concerned about how to keep kids safe from creepy clowns this Halloween. Luckily, there are a ton of experts offering parents advice this year that will help everybody have a safe and enjoyable holiday.
Petra Vybiralova, a Safe Kids Supervisor for Johns Hopkins All Children's Hospital in St. Petersburg, Florida, advised WTNH News 8 that an important first step is communication with your children. The creepy clown epidemic has largely been fueled by social media. Many parents closely monitor their young children's interaction with the internet, so there are a lot of kids out there that may not realize they need to be aware of creepy clowns this Halloween. Informing your children of the problem will help them steer clear of any suspicious clowns.
"I would explain that sometimes clowns are in circuses and they are fun and they are not meant to be scary," Vbiralova said of informing your children about the creepy clowns. "Explain that underneath that costume, there is a real person." And sometimes the person underneath that costume does not have your child's best interests at heart.
Dr. David Anderegg, a psychologist and author of "Worried All the Time: Overparenting in an Age of Anxiety and How to Stop it," spoke to CNN about the hype and subsequent panic surrounding the creepy clown craze this year. While Anderegg stresses it's important to stay vigilant, he also reminds parents that "if someone really wanted to hurt children, dressing up like a clown would not be the way to do it, because they're calling attention to themselves. People who want to hurt children are insidious." Most of the clown sightings so far have reportedly been hoaxes and not substantial threats. Anderegg reminds parents that there are those who aim to harm children either way and parents should not forget that in the midst of the clown craze.
Law enforcement officers across the country are also advising that parents not buy into the panic. They believe that buying into the hype of the creepy clowns can make this Halloween even more dangerous, with some even warning that the clowns themselves were at risk. The Roselle Park Police Department in New Jersey, for exampl, released a statement urging parents to prevent their children from dressing up as clowns this year:
Residents may be extra sensitive to "evil or creepy" clown attacks leading up to Halloween Police are warning would-be clown pranksters and other characters: Carrying anything that is perceived to be a weapon in public, into businesses or in and around schools exposes you to criminal charges and/or potential danger if it is confused for a real weapon.
Stores like Target are also pulling clown masks from their shelves out of an abundance of caution. Parents should follow their lead, and like the Roselle Police Department advises, avoid dressing kids in clown costumes this year. The clowns are definitely concerning, but so are those who are overly afraid of them this year.
With or without creepy clowns, Halloween is still a dangerous holiday for children. According to USA Today, a new analysis of U.S. government data reveals that 115 pedestrians under 18 were killed on Oct. 31 from 1990 to 2010. It's dark outside and there are a bunch of excited children running around to get candy, which is a dangerous combination. So, more than anything, teach your kids not to cross the road alone or play by the street — where the real threat lies.
To keep your kids safe on Halloween, parents should ensure they carry flash lights, wear reflective clothing, avoid masks that limit vision, and only cross the street at cross walks. Happy candy-hunting — be safe!