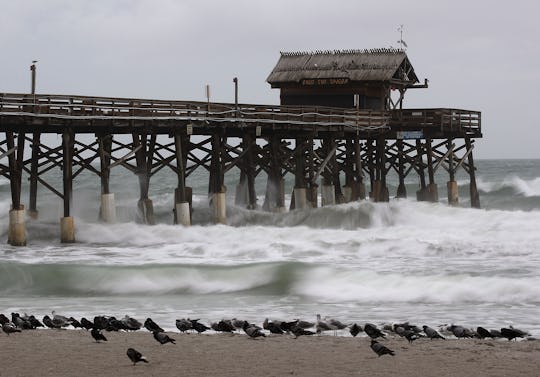 Mark Wilson/Getty Images News/Getty Images
How To Keep Your Kids Safe While Evacuating Ahead Of Hurricane Matthew
Evacuating before a hurricane takes serious planning and initiative, but it's an even more challenging process when children are involved. Whether the move involves a mom's first big trip with a newborn or a van full of unhappy toddlers, it can be difficult to stay focused on the mission: keeping everyone healthy and secure through a major storm. For anyone wondering how to keep your kids safe while evacuating ahead of Hurricane Matthew, there are tips from officials that could be indispensable for every parent.
Hurricane Matthew poses a significant threat to some parts of the United States, NBC News reported. With winds of up to 140 mph, the Category 4 storm has already killed more than 100 people in the Caribbean. As the danger approaches the Florida coast, many counties in the state are already calling for mandatory or voluntary evacuations ahead of Hurricane Matthew; according to The Weather Channel, parts of Georgia, South Carolina, and North Carolina are also being evacuated. Florida Gov. Rick Scott told residents of the state that "the storm will kill" individuals who don't leave evacuation zones, CBS News reported. The hurricane may reach Florida in the early hours on Friday, but the exact time is difficult to predict. At some point, potentially even today, it will be too late for residents to evacuate or to get help from emergency responders.
Evacuating families need to immediately determine their next steps; the Federal Emergency Management Agency (FEMA) advises learning evacuation routes as soon as possible for planning purposes. State emergency management agencies often can direct website visitors to local emergency management organizations that can help them determine how to evacuate. The Florida Division of Emergency Management, the Georgia Emergency Management & Homeland Security Agency, the South Carolina Emergency Management Division, and the North Carolina Department of Public Safety all have resources for families evacuating ahead of Hurricane Matthew. While evacuating, follow all instructions from officials; taking shortcuts or devising alternative routes could be dangerous as the storm approaches.
There are steps that can be taken to make traveling with kids easier. A childhood psychologist told Florida Today that it's essential to talk with children about what to expect during a hurricane and assist with stress management. Older kids may benefit from helping with evacuation plans and may feel empowered if they learn about what's happening. TIME for Kids put together a student-friendly report on Hurricane Matthew, and the Orlando Sentinel recommends the online game Disaster Hero for teaching children what they can do during a natural disaster. Younger kids may have more trouble coping with their fears, according to Florida Today, and little ones may develop "headaches, nausea, hyperactivity" and other physical symptoms in response to extreme stress. It may be a good idea to put together a kit full of supplies to address any of those symptoms (small garbage bags, sanitizing wipes, etc.) in addition to backseat distractions (coloring books, MP3 players, etc.). Diana Kees, the Public Relations Manager for the North Carolina Department of Public Safety's Communications Office, advises parents to pack everything they need for a long trip with kids. It's important not to expect a quick return home, even if it might be possible. In addition to packing all essentials (medication, food, water, clothing, etc.), bring anything your children need to be safe and feel secure for an extended stay in a new place; don't count on being able to replace forgotten items along the way.
Evacuating with a baby may be an even bigger challenge. If a mom is still breastfeeding, the Sun Sentinel reported that it's important to know that frozen breastmilk must be used within 24 hours of thawing. So, use frozen breastmilk while still at home or within the first day of hitting the road to evacuate ahead of Hurricane Matthew, but it's not safe to freeze again once a family arrives at their destination. It may also be a good idea to stock up on shelf-stable formula, sterile water, and a surplus of disposable bottles, plus "diapers and baby wipes." Even in inland areas, power outages and damage caused by the hurricane may make transit and shopping impossible in the days following the worst of the storm.
For more advice, Ready.gov has a list of excellent hurricane emergency preparedness resources available online, providing guidance on everything from creating a family communication plan to returning home after a storm. Hurricane Matthew is definitely frightening, but taking the steps to keep one's family safe is genuinely empowering.