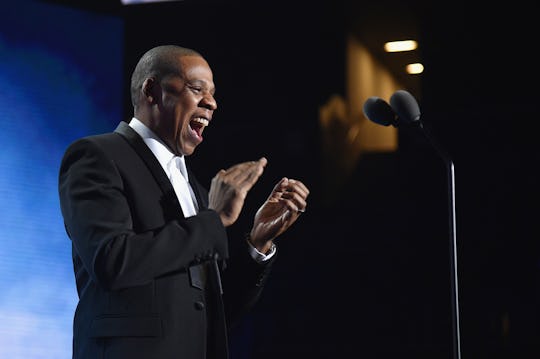 Bryan Bedder/Getty Images Entertainment/Getty Images
How To Listen To '4:44' If You Don't Have TIDAL
JAY-Z has released his 13th album, 4:44, on Friday, and the world's been clamoring to listen to the star's latest tracks. One small problem? JAY-Z has released the record exclusively on his streaming service, TIDAL, in collaboration with Sprint, which means those who aren't members and those who don't have Sprint can't access the album. Fortunately, though, we have a few tricks up our sleeve: here's how to listen to 4:44 if you don't have TIDAL and Sprint. You'll want to hurry, though — this method will only work on Friday, June 30, until midnight.
To listen to 4:44, go to iHeartRadio's website and click on the 4:44 banner at the top of the page to be taken to a live stream of a Rhythm and Urban station, which will play the entire album every other hour. iHeartRadio started by streaming the 35-minute album in full on its Pop, Rhythm and Urban radio stations across the United States just after midnight, then continued to play the album on iHeartRadio's Urban and Rhythm stations as the day went on.
To catch the entire album on iHeartRadio, set a reminder on your phone to listen to "The Beat" online at 12 p.m., 2 p.m., 4 p.m., 6 p.m., 8 p.m., or 10 p.m. (all Eastern Time).
iHeart Radio's stream also includes snippets of commentary from JAY-Z on the album's different songs before they play. For instance, before the album's namesake "4:44" track streams, JAY-Z can be heard explaining:
'4:44' is a song that I wrote, and it's the crux of the album, just right in the middle of the album. And I woke up, literally, at 4:44 in the morning, 4:44 AM, to write this song. So it became the title of the album and everything. It's the title track because it's such a powerful song, and I just believe one of the best songs I've ever written.
If you want to keep listening (and re-listening) to 4:44 once iHeartRadio's streaming wraps up without switching to Sprint and joining TIDAL, you might have to wait a while. An unnamed source reportedly told Variety on Thursday that the album could be available on Apple Music in as little as a week from now, but that claim remains unconfirmed so far.
Romper reached out to both Apple Music and TIDAL for comment, but did not hear back immediately. It's still unclear if and when 4:44 will be available outside of TIDAL, so for now, make sure you catch it on iHeartRadio while it's still streaming there.