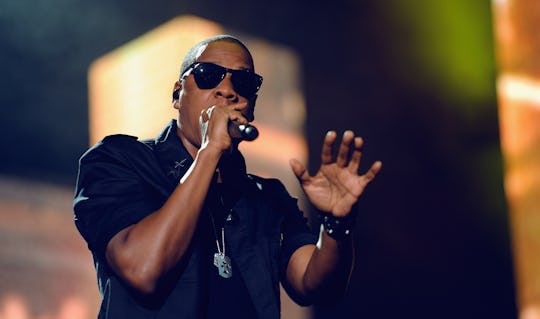 Ian Gavan/Getty Images Entertainment/Getty Images
Get Your Tidal Subscription *Now* To Listen To '4:44'
The release of Jay Z's new album 4:44 is just hours away, and already, tensions are high. The 47-year-old rapper's 13th solo album will exclusively drop on streaming service Tidal on June 30 at midnight. But unless you act fast, you might be left scrambling and wondering how to listen to 4:44 on Tidal — even if you sign up for a subscription a day or two after it's released. If you don't want to miss what's expected to be an epic album or any subtle shout-outs to Blue Ivy or Queen Bey, here's what you'll need to do.
Update: Go to iHeartRadio's website and click on the '4:44' banner at the top of the page to be taken to a live stream of a Rhythm and Urban station, which will play the entire album once every hour.
A spokesperson told Romper in an email statement that Roc Nation, iHeartMedia and Jay Z have "teamed up to world premiere an exclusive one-of-a-kind historic radio launch of Jay Z's album, 4:44." On Friday, starting at 12:01 a.m. Eastern Time iHeartMedia, in conjunction with TIDAL X Sprint, "will world premiere the full album with an exclusive 35-minute Album Roadblock to tens of millions of listeners nationwide." Thank goodness.
According to The Verge, anyone looking to get access to 4:44 will need to sign up for the streaming service before 12 a.m. Eastern Time on June 29, otherwise you won't be able to listen to it. This is reportedly due to the deal Sprint struck with Tidal, and only Sprint customers will be able to access the album after the cutoff time.
So unless Sprint is already your provider, you'll want to sign up for Tidal pronto. While you can switch over to Sprint and get six months of complimentary streaming, it's a bit of a process and you won't be able to access 4:44 in the meantime.
Fortunately, if you sign up for the service before midnight, you'll be in luck. And if you're worried about budget, don't be: You can get a free 30-day trial of Tidal, which Jay Z partly owns, and cancel before the 30 days are up, if you're not 100 percent happy with it. Keep in mind that you will have to enter an email address and put down a credit card or a PayPal account, but you can cancel at any time over the next month without being charged. You can choose between "TIDAL Premium" for $9.99 a month, or "TIDAL Hifi" for $19.99 a month, which is said to have better sound quality than the less expensive version.
If you're only looking to hear Jay Z's album ASAP and play it on repeat for the next month, then this is the best and cheapest course of action. It's actually quite a steal, especially when you think back to the days of CDs and paying $15 or more for the latest hits. But if you do decide to cancel the service, just remember to set a reminder in your phone so you don't get hit with a charge.
If you miss the deadline and are too late to sign up for the service, prospective listeners without Sprint are unfortunately SOL for the time being. (Unless, of course, you're able to track down a friend or a friend-of-a-friend who has a Tidal subscription and is willing to share theirs with you.)
In recent years, streaming services have become the new norm and the music industry has had to get creative with how and where to release its work — and 4:44 is no different. If there was any reason to give the service a try, having access to Jay Z's latest album is definitely it.