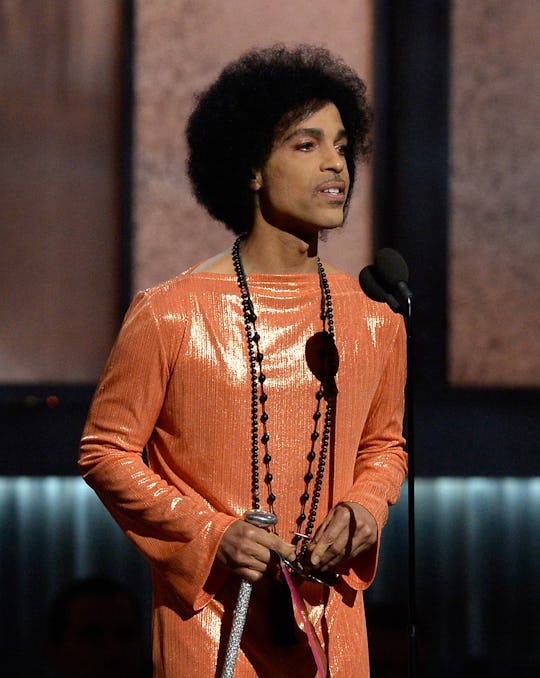 Kevork Djansezian/Getty Images Entertainment/Getty Images
How To Listen To A Prince Album, Because Fans Are Going To Want To Celebrate The Singer
On Thursday, April 21, fans learned that Prince has died at 57. Although few details are out regarding the cause of death, the singer was reportedly hospitalized on April 15 for the stomach flu, of which he had been fighting for several weeks. On Saturday, April 16, the celebrated performer showed up to a concert-turned-dance-party, where he showed his fans that he was alive, and for the most part, well. Now, fans are undoubtedly devastated by the news of Prince's passing, and a dance party sounds pretty great. So, how can you listen to a Prince album? There's no doubt fans are going to want to celebrate one of the most influential performers in all of music history.
Shockingly, Prince's music is not available — in full — digitally on most go-to platforms. If you immediately went to Spotify to queue up a day full of Prince's music, you'll only find a sampling of his music. But, because there are so many incredible songs that you don't want to miss with just a sampling, you might be looking for a way to listen to a full Prince album (or all of his albums), and in that case, you're not alone.
If you find yourself looking to listen to Prince's albums, you're probably going to have to go and purchase a Prince album. (Unless you already own them, in which case, listen away.) I know it's old school to actually go and purchase music nowadays, but this is worth it. Prince is a legend, and his legend status remained off of streaming site Spotify and YouTube (legally).
If you subscribe to Tidal, you'll be able to access Prince's music on there, which might be worth it if you want to listen to his entire collection. Otherwise, purchasing on iTunes (or buying a CD) will be your best bet to celebrate the musical wonder that is Prince.