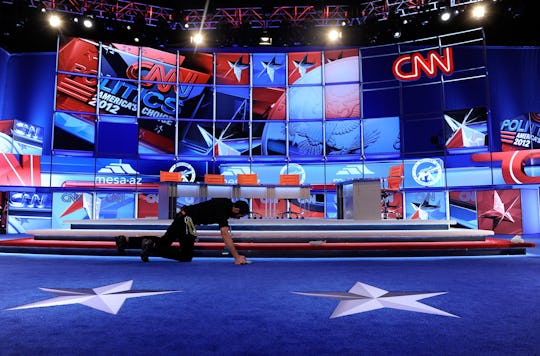 How To Listen To Hugh Hewitt's Show, In Case You Want To Hear From The CNN GOP Debate Questioner
Interested in hearing from a questioner before Tuesday night's GOP debate on CNN? Well, you're in luck: You can listen to Hugh Hewitt's radio show on his website, HughHewitt.com. The Hugh Hewitt Show airs live Monday through Friday from 6-9 p.m. EST, but you can access the show anytime online. Want other options? Try downloading Hewitt's app, or use his Find A Station page to determine how to tune in.
Hewitt is a conservative lawyer, Emmy-winning journalist, and a bestselling author. According to his website, Hewitt's radio show pulls in "more than 2 million listeners every week." Distributed by Christianity-affiliated Salem Radio Network and maintaining a political focus, The Hugh Hewitt Show includes interviews with politicians and analysts from both sides of the aisle.
CNN will air the final GOP debate of 2015 on Tuesday, December 15. The first debate (airing at 6 p.m.) includes former Arkansas Governor Mike Huckabee, former Pennsylvania Senator Rick Santorum, South Carolina Senator Lindsey Graham, and former New York Governor George Pataki. The second, main stage debate (beginning at 8:30 p.m.) includes Texas Senator Ted Cruz, noted hair-haver Donald Trump, neurosurgeon Dr. Ben Carson, New Jersey Gov. Chris Christie, Ohio Gov. John Kasich, Florida Sen. Marco Rubio, former Florida Gov. Jeb Bush, Carly Fiorina, and Kentucky Sen. Rand Paul. Wolf Blitzer will be acting as moderator, while Hugh Hewitt and Dana Bash are questioners.
Hewitt has plenty of government experience of his own: According to his bio, "Professor Hewitt served for nearly six years in the Reagan Administration in a variety of posts, including Assistant Counsel in the White House and Special Assistant to two Attorneys General." Now, in addition to working in journalism, he teaches Constitutional Law as a professor at Chapman University Law School.
What Hewitt's role as questioner will mean is up for debate, but audiences will be watching to see what happens when the conservative commentator meets this year's controversial pool of Republican candidates.
Image: Ethan Miller/Getty Images