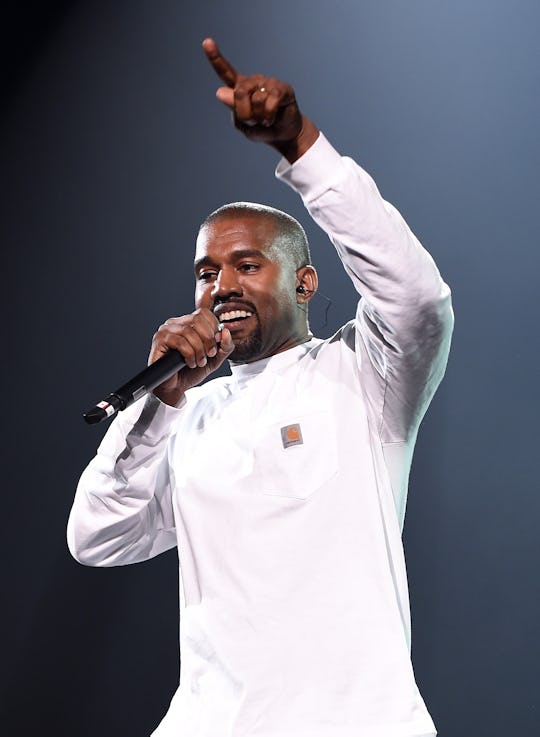 Dimitrios Kambouris/Getty Images Entertainment/Getty Images
How To Listen To Kanye West's New Album 'YE'
It's been two whole years since Kanye West has dropped a new album, and on Friday, June 1, the famous rapper has finally graced his fans with some new tracks. And it's certainly been a hotly anticipated album release, given his recent (and sudden) embrace of President Donald Trump and cryptic tweet storms over the last month or so. Given all the hype surrounding his newest album, you might be wondering how to listen to Kanye West's YE. Because if history has taught us anything, it'll certainly be interesting and entertaining. But, unfortunately, Kanye hasn't dropped the album on any streaming service anywhere as of the morning of June 1.
Update: As of 9 a.m. Eastern Time, Ye is available on both Spotify and Apple Music. The below information tells you how to listen on those platforms.
Previously: HighSnobiety reported that, if you didn't get an invite to West's listening party or to the livestream of the listening party, you're SOL for now. The album isn't yet on Apple Music, Spotify, or TIDAL, though it was supposed to drop on those first two in the early hours of June 1. NME reported Friday morning that the album will probably land on Spotify and Apple Music some time on June 1 or in the few days after. So, uh, just keep refreshing I guess?
The only way you could receive a digital copy of the album on June 1 was to buy a Wyoming-themed bundle that West was selling on his website, which would ensure you'd get a digital copy of the album sent to you via email, according to NME. But if you go to Kanye's website, there don't appear to be anymore bundles left.
Here's where you should be able to listen to Kanye's album in the next few hours or days. (Also the album has reportedly been leaked and you might be able to listen to it here, but there's no telling if it's entirely real or accurate.)
Spotify
If you already have Spotify, it looks like YE will make its way to the streaming service considering its "standard release schedule," as Heavy reported.
Don't worry if you don't have have a Spotify account; you can easily sign up and only pay $0.99 for your first three months. Of course, remember to cancel if you decide not to keep it.
Apple Music
YE will indeed be on Apple Music, as Heavy reported, and you can stream it there first thing if you have an account. 9to5Mac also reported that West's new album will be available on the streaming platform as soon as it drops.
If you don't have an Apple Music account, you can try it free by signing up for a trial.
Stationhead
Last, but certainly not least, is Stationhead. Now, if you haven't heard of it, don't be alarmed. It's an app and, according to Vulture, it's where West chose to initially release his new album. In fact, West held a midnight listening session on the app Thursday night into early Friday morning and it was the only way fans were able to hear his new music right away. If you prefer this route, you'll have to download the app first, which is free.
Fortunately, it looks like there will be plenty of ways to listen to West's newest album. We just need him to release the damn thing.