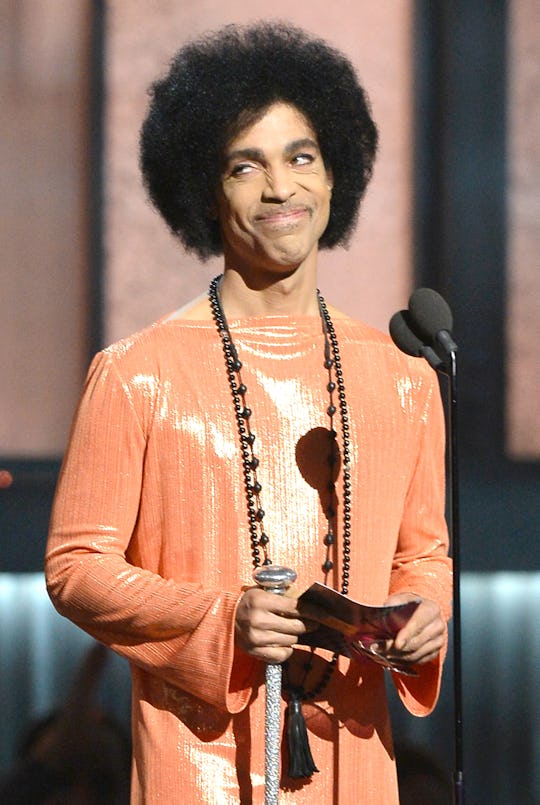 Kevork Djansezian/Getty Images Entertainment/Getty Images
How To Listen To Prince's Music, As A Way To Remember The Iconic Artist
On Thursday, April 21, news broke that the beloved and iconic singer, Prince, died at 57 years old. Though details are still trickling out as to what happened to the singer, fans everywhere are turning to his incredibly storied musical career in the wake of his death as a way to remember and honor the artist. Even if you don't own every single one of his albums, you can still listen to Prince's music online. It won't mask the depth of his loss, both for the music industry and for the lives he touched and changed throughout the world, but it does provide a little comfort, especially right now, as the shock of what's happened sets in.
According to TMZ, police responded to a call at the singer's Paisley Park estate in Minnesota. Prince's death was confirmed minutes later by the Associated Press, who confirmed the news after speaking with a publicist for the singer. The AP noted that the singer was recently hospitalized for his health following a concert in Atlanta. On Saturday, just days before his untimely death, according to TMZ, Prince wanted to prove he was alive and told crowds at an Minnesota concert to, "Wait a few days before you waste any prayers."
Prince's music is readily available online, though you won't exactly be able to listen to it en masse. There's a Prince YouTube station that has dozens (if not thousands) of his songs queued up from different moments throughout his incredible career, and Spotify also has some of his one-off singles ready and available for listening. However, in July of 2015, Prince pulled his music from streaming services. According to a message posted on Spotify,
Prince's publisher has asked all streaming services to remove his catalog. We have cooperated with the request, and hope to bring his music back as soon as possible.
The notice was then published on Variety. Likewise, his music was pulled from Apple Music and from Rdio. But you can listen to Prince's music on Tidal, and you can play his music via Pandora (where you can play his station, which doesn't guarantee you'll be able to hear all of his songs) and Google Play. Perhaps the easiest way to ensure that you can listen to all of Prince's music is to go out and buy it and support the artist's commitment to his music, even in his death.