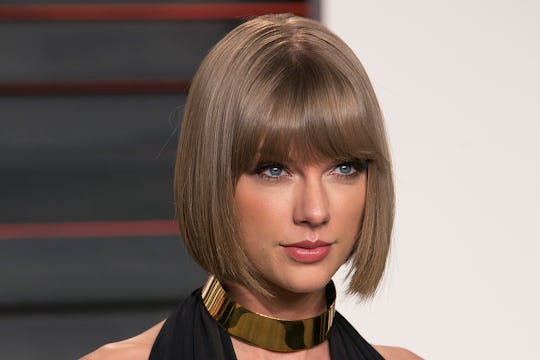 ADRIAN SANCHEZ-GONZALEZ/AFP/Getty Images
All The Ways You Can Listen To Taylor Swift's "Ready For It"
As Taylor Swift stated in the lyrics of her first single in four years, the "old Taylor" is dead and I am so here for it. Her new look and sound is unlike anything fans have seen from the star before, and from what she has revealed so far, it is absolutely amazing. On Sunday morning at 8 a.m. Eastern Time, iHeartRadio stations debuted Swift's second song from this new era, "... Ready For It." But those who were sleeping through the song's debut can still easily listen to "... Ready For It" on any of their favorite streaming services.
Swift debuted a teaser of "... Ready For It" during a college football game broadcast on Saturday evening. That was the perfect venue for her to give fans a minute-long tidbit of the song. The new song's high energy is perfectly suited for competitive sports (or tailgating for them). It is the kind of song that you will definitely want to listen to on full blast while driving with the windows down on your way home from your vacation spot this Labor Day weekend (Can you tell that's my favorite pastime?).
But fans don't have to wait for Swift's new album to drop in November to do just that. Yep, "... Ready For It" is available to stream on Apple Music, Spotify, and Swift's YouTube channel right now.
However, if you're more interested in purchasing the song so you can have it forever and ever, it is available to purchase on iTunes for $1.29, which is totally worth it to listen to this new track wherever and whenever you want.
Shortly after "... Ready For It" was put online on Sunday morning, Swift fans went absolutely wild for the full song — and their reactions are just as good as the song itself.
Needless to say, people are really loving "... Ready For It." The song already climbed to the top of the iTunes charts just two hours after it was released and currently sits at the second spot of the top songs chart, with "Look What You Made Me Do" taking the top spot.
The latest song's lyrics indicate that the Taylor depicted in the music video for "Look What You Made Me Do" is one that is here to stay. In this new hit, she references her reputation for getting involved in romantic relationships and falling for men fast. And as it just so happens, Swift's new album is titled Reputation. This could very well be an indicator for the tone of the rest of the album.
This new song brings everyone one step closer to Reputation's debut and hearing more of Swift's newest track list. I don't know about you, but I am ready for it.