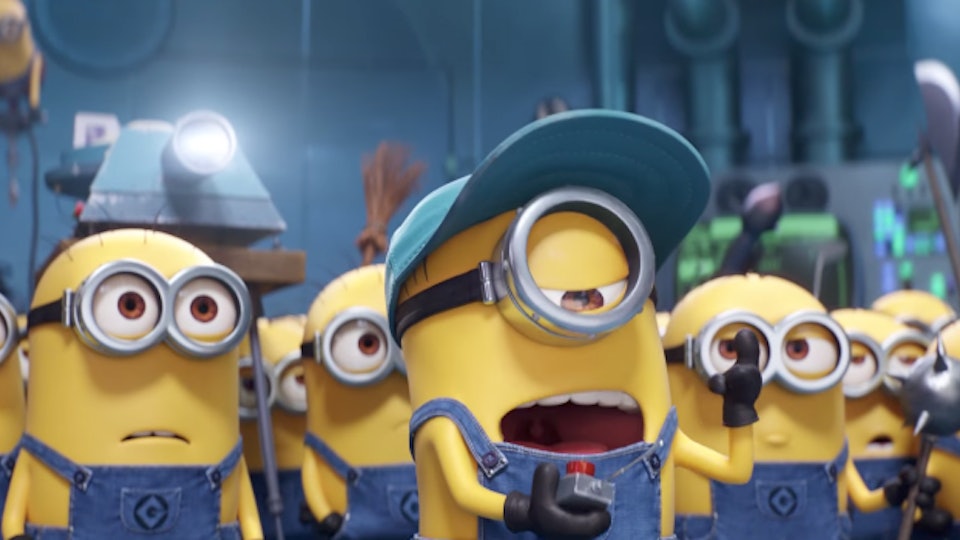 Illumination/YouTube
How To Listen To The 'Despicable Me 3' Soundtrack, Which Features Well-Known Classics
On Saturday at the Shrine Auditorium in Los Angeles, the stars of the newest Despicable Me installment showed up on the "yellow carpet" for the world premiere of Despicable Me 3. Actors Miranda Cosgrove, Kristen Wiig, and Steve Carell were all in attendance, according to Variety, as well as songwriter Pharrell Williams. Since he had a hit with the song "Happy" back in 2014 on the Despicable Me 2 soundtrack, it's likely the newest installment's soundtrack will have some great tunes too. And fans are in luck — there are a couple of ways to figure out how to listen to the Despicable Me 3 soundtrack right now.
According to High Snobiety, a website featuring news on all things art, music, and culture, you can now listen to the Despicable Me 3 soundtrack before the movie is in theaters. "Per usual," the outlet reported, "Pharrell Williams and Heitor Pereira handled the composition for the album, which welcomes features from the likes of Michael Jackson and Madonna."
Consequence of Sound reported that Pharrell's song "Yellow Light" is on the Despicable Me 3 soundtrack, and considering how huge "Happy" got, it's probably the pop tune that most of the people behind the film and soundtrack are predicting fans will like the most.
The Guardian reported that the Despicable Me 3 soundtrack is a "jukebox soundtrack of '80s hits – Michael Jackson's 'Bad,' aHa's 'Take on Me,' Madonna's 'Into the Groove.'" Although the publication noted that "younger members of the audience might consider them cultish ancient tunes," I take offense to that, because I've definitely rocked out to some Michael Jackson with kids at a summer camp before.
Anyway, you can definitely stream the Despicable Me 3 soundtrack right now on Spotify if you want to listen to some of these totally-not-ancient tunes.
Apple Music also has the Despicable Me 3 soundtrack available to listen to via iTunes. It looks like you can listen to snippets of the tracks on the album there, or buy the whole thing and do whatever you want with your new music selections.
Variety reported that the film officially opens on June 30, and that the movie has "a myriad of '80s moments," so apparently it's not just the soundtrack that's getting the Generation X treatment. Consequence of Sound reported that composer Hans Zimmer contributed to the Despicable Me 3 soundtrack, too, and that Eminem's music has been used for promos for the film.
PharrellWilliamsVEVO on YouTube
Pharrell posted the music video for "Yellow Light" on YouTube, and when you search YouTube for "Despicable Me 3 soundtrack," several other tracks on the album and presumably in the movie show up in the results as well.
Basically, there are a bunch of ways to listen to the Despicable Me 3 soundtrack. But the best way to hear the songs is probably by going to see the movie, to see how the tunes are incorporated into the story. Enjoy.