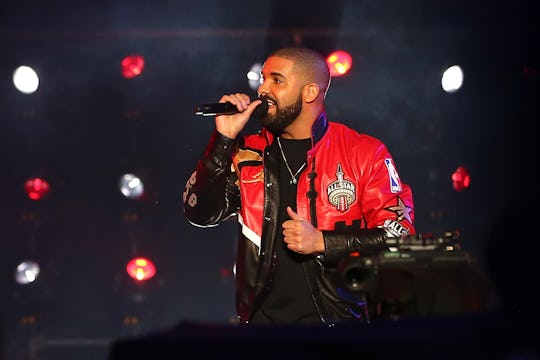 Elsa/Getty Images Sport/Getty Images
How To Listen To 'Views,' Because Drake Would Want You To Know
It's been a pretty music-centric couple of weeks, and it is not slowing down thanks to Mr. Aubrey Graham. On Friday, (well, technically Thursday, for those that were listening to the album release) Drake released Views, his highly anticipated album that fans (like me) have been waiting a very long time for. Well, the time has finally come for fans to listen to his new album, but you might be wondering how to listen to Views. Well, there are a few ways to listen to the new album — and more ways are coming, so say it with me, what a time to be alive.
OK, now that I've slapped myself on the wrist for incorporating another Drake album title into this moment, let's focus on the issue at hand: Listening to Views for the rest of time. There are multiple ways to listen to Views, some of which might not be preferred at the moment, but more outlets are coming, so just sit tight while Drake hits all channels. As of release day, Views isn't on Spotify or Tidal. The album is exclusive to Drake's good friends at a certain streaming service, but that won't last long. So, here's how you can get your ears on Drake's newest album.
Apple Music
Drake has been working with Apple Music for some time, so it's not all that surprising that the artist released streaming rights to the service exclusively upon release. If you want to check out why Little Drake is dancing, you can download Apple Music (take advantage of the free trial!) at any moment, and stream away.
iTunes
If you're a committal person — and if you like Drake, chances are you're ready to double down with this album — why not just go and buy it. Throw your credit card number in the direction of iTunes and let them take it from there. On the subway without service? No problem — you bought the album and can enjoy it at any moment of the day.
Spotify, Tidal, And Google Play
If you are a loyal follower of one of the above services, you'll have to wait a week until the album is available to all services. The first week of the release is exclusive to Apple Music, then after seven days, Buzzfeed News reports that it will "go to other platforms."
Before you know it, fans will be able to listen to Views in multiple ways. But, for now, Drake's making us work for it.