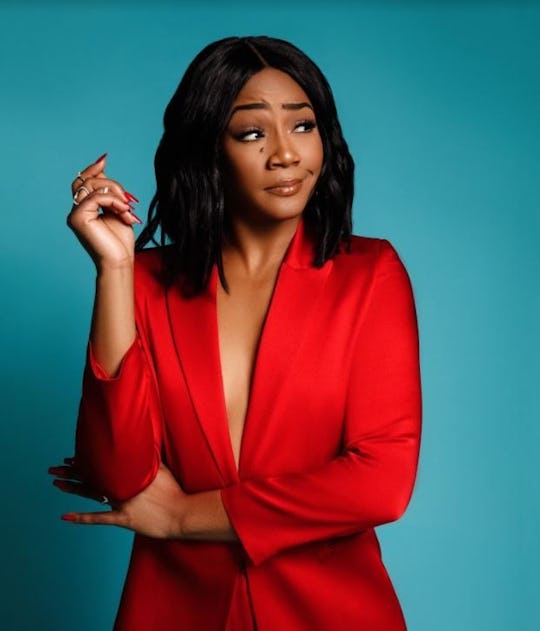 Elton Anderson/MTV
Here's How You Can Live Stream The MTV Movie & TV Awards
The 2018 MTV Movie & TV Awards is finally here and it's going to be a great night! This year's show will be hosted by the hilarious Tiffany Haddish, and there will be a number of great performances. So, if you don't have access to a TV you'll probably want to know how to live stream the MTV Movie & TV Awards. Thankfully, Romper can answer that question for you!
Before the show even begins, you'll be able to watch a live Red Carpet Pre-Show on Twitter hosted by two of MTV's own, Josh Horowitz and Nessa. Then, during the show, Riverdale stars Ashleigh Murray and Vanessa Morgan will co-host the MTV Movie & TV Awards Watch Party Live, presented by Simple Mobile, on MTV's Facebook page. The interactive livestream will feature chats with fans, behind the scenes clips, prizes, and more.
If you want to watch the actual awards ceremony live, you can tune into MTV's live-stream when the show begins on Monday night at 9 p.m. EST. You'll need to log in with a cable provider, however, and if you don't have a cable provider, MTV offers a one-time 24-hour viewing pass for first time users. So, as long as you've never used the livestream before there will be plenty of time for you to catch the entire awards show.
No matter how you watch, there's plenty of reasons to tune in. The show's performers include Mustard, Nick Jonas, and Chloe x Halle. This year's presenters include Michael B. Jordan, Seth Rogen, Mila Kunis, Kristen Bell, Zendaya, Gina Rodriguez, and Common. In addition, this year's Generation Award will be given to Chris Pratt while the Trailblazer Award will go to Emmy-award winner Lena Waithe.
As for the awards themselves, there are a lot of great contenders. Last year, marked two major changes to the awards show. First, was the addition of TV shows. Second, was the removal of gender-specific categories. This year the top contender in movies is Black Panther, which scored seven nominations, including Best Movie and Best On-Screen Team. On the TV side, Stranger Things got the most nominations, coming in with a total of six noms, including Best Show and Best On-Screen Team. Other popular nominees this year are Girls Trip, Avengers: Infinity War, Riverdale, 13 Reasons Why, grown-ish, and Game of Thrones.
One category that's always fun is the Musical Moment. This year, people were able to vote for their favorite using MTV's Instagram Story. The contenders are "Freedom" from black-ish; the scene where Timothée Chalamet is crying in Call Me by Your Name; the "Bad Bitches" dance battle in Girls Trip; "I Wanna Dance With Somebody" from Love, Simon; "A Night We'll Never Forget" from Riverdale; "Every Breath You Take" from Stranger Things; "Rewrite the Stars" from The Greatest Showman; and "Landslide" from This Is Us. All of these moments are great for various different reasons, but unfortunately there can only be one winner. You'll just have to tune in tonight to see who walks away with the golden popcorn.
With so many great awards to be given out, great music, and a phenomenal host, this year's MTV Movie & TV Awards may just be the best yet. All the celebs are coming out for a night of fun that'll surely include a number of Twitter worthy moments. Unlike other awards show, the MTV Movie & TV Awards is known for being outrageous and sometimes a little ridiculous. That's why it's best to watch it live, so you're not the last one to know about what ever wild thing is bound to happen. So make sure to tune in for the MTV Movie & TV Awards on Monday night at 9 p.m. EST.