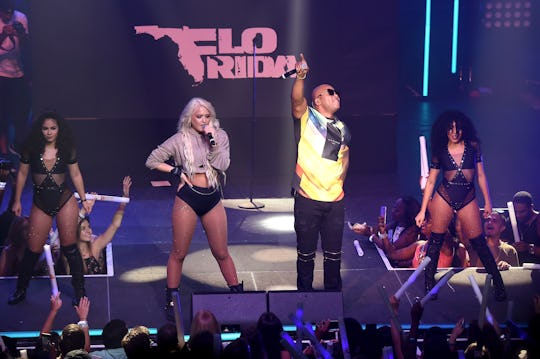 Nicholas Hunt/Getty Images Entertainment/Getty Images
How To Livestream The VMAs Red Carpet, Because It's Sure To Be Buzzworthy
The MTV Video Music Awards air on Sunday night, and if the craziness of past shows is any indication, watching the special live is the way to go. The fun often begins on the red carpet, when celebrities debut their eye-popping outfits (remember Lil' Kim in 1999?). And those without a television need not fear, because MTV is offering a way to live stream the VMAs red carpet, as well as the show itself.
The live stream will be available on MTV's website starting at 7 pm ET, when the red carpet show begins. Another way to watch the stars show off their outfits, along with some behind the scenes footage, is to download the MTV app. And make sure to stick around for the actual show at 9 pm ET, with its roster of some of the biggest names in pop music performing and attending. Of all the awards shows out there, the VMAs tend to deliver the most surprises, and those shock-worthy moments just don't pack the same punch watching them after the fact.
After all, there's nothing quite like the experience of watching a normal Taylor Swift acceptance speech veer suddenly into a Kanye West "I'mma let you finish" disaster, or a Britney Spears, Christina Aguilera, and Madonna performance go full-on makeout session.
A lot of those big names will be in attendance tonight, meaning that the potential for fireworks is high. Spears is returning to the VMAs stage for the first time in nine years, and her performance is sure to leave people talking. This is the woman who strutted around the stage with a giant python on shoulders. She knows how to bring it.
And although Taylor Swift wasn't nominated for any awards this year (for the first time in what feels like forever) and is reportedly skipping the ceremony, rumors are flying that she may make a surprise appearance. Her sometimes-nemesis Kanye West will certainly be there—apparently, he's got four minutes on stage to do something, except nobody seems to know what—and the two have a lot of drama to hash out after the fracas over "Famous" and Swift's subsequent truth-stretching on how much she knew about it.
Even if there's no Kanye/Taylor drama, the show will still feature Beyoncé and Adele, who are both nominated for plenty of awards, as well as Rihanna getting the VMAs equivalent of a Lifetime Achievement Award, so it's bound to be good. Get ready to live stream!