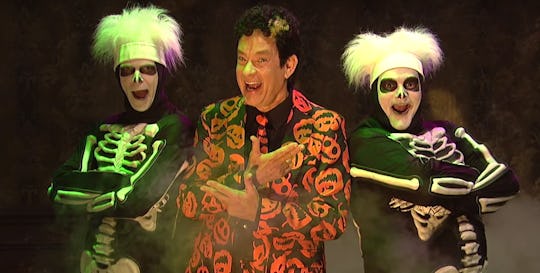 NBC
How To Make A David S. Pumpkins Costume, Since It's Sold Out Everywhere
Some Saturday Night Live sketches immediately become pop culture gold, and it looks like a new one just entered the canon. Tom Hanks' gloriously goofy David S. Pumpkins character became a hit during his debut last Saturday. And though the dance-loving dude in a pumpkin suit may be the most disappointing attraction on the Haunted Elevator, he's probably going to be a Halloween favorite this year. And with some basic DIY skills and a little internet shopping, you can learn how to make a David S. Pumpkins costume.
You're this close to having the most current costume at the party. Although you may not be able to score an exact replica (it's sold out everywhere), these getups are pretty close to the sprit of the original look. If you roll up to a party in a pumpkin-print suit, everyone will know what you're going for. Top it off with a curly wig, and you're all set. To really sell the look, you can download the music from the skit and perform slightly awkward dances at random times.
Sure, there are going to be plenty of other SNL characters running around on Halloween, as Wayne and the Coneheads have been costume classics for years. But you can get a jump on the trend this year with the least-scary character of all time. Any questions?