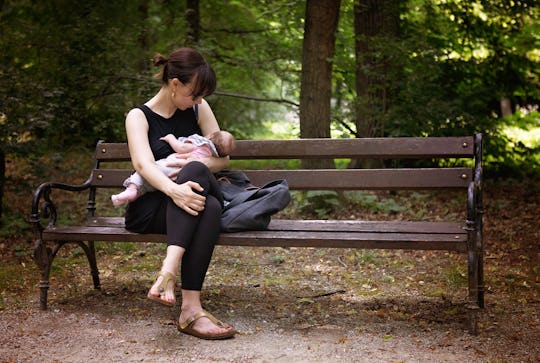 DeymosHR/Shutterstock
How To Make Breastfeeding In Public More Comfortable For Mom & Baby
Moms know that the best way to feed a baby is to make everyone comfortable physically and emotionally. When everyone is calm, cool, and collected a baby can successfully eat, as babies are very sensitive to their environments. They can feel and sense everything, even when their mom is anxious. Which is why it's so important that moms and babies feel content while breastfeeding, especially when they're out of the house. Before venturing out, there are ways moms can make breastfeeding in public more comfortable for themselves and their babies.
Breastfeeding moms shouldn't feel like they have to run to the nearest bathroom to nurse their babies. Because, seriously, who wants to eat in a bathroom? They shouldn't feel like they have to hide under a hot wrap or blanket. They shouldn't have to employ MacGyver maneuvers and Olympic-level acrobatics to shield the world from her while she's nursing. They should be able to feed their babies in peace. End of story.
Many mothers are already super comfortable breastfeeding in public, but others, might not be yet. Here are eight things moms can do to feel more comfortable breastfeeding in public for them and for their baby.