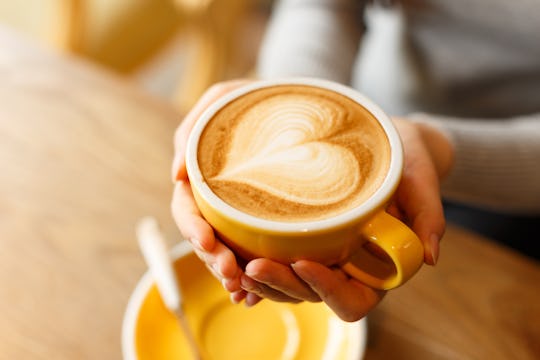 zhu difeng/Fotolia
There's An Edible Slime That Can Give You Energy, No Joke
Need a little pick-me-up? Who doesn't? Making DIY slime with kids takes a lot of energy, and moms may need a little boost to get through the chaotic craft sessions. Sure, you could sip on a cup of coffee while the kids DIY-away. But why not kill two birds with one stone and learn how to make coffee slime that'll keep kids entertained and you energized.
Coffee slime is the grown-up slime you never knew you needed. Although you probably don't want to chow down on your slimy, coffee-flavored creation during snack time, if you need a little boost of caffeine during the crafty afternoon then sneak a taste. No one will know.
There are a variety of recipes out there floating around on the internet but, essentially, the edible version involves mixing instant coffee grounds (so they'll dissolve into the slime rather than making it gritty), water, powdered sugar, cornstarch, and cooking spray.
First, the instant coffee is mixed with powdered sugar. Then, the mixture is dissolved well in water. It then takes a little trip to the stove, where cornstarch is added, it's brought to a boil, and cooked to help the mixture come together and begin to gel. At this point, according to YouTuber Shundara Castion's coffee slime how-to video, the coffee slime is still quite sticky. Spraying it with cooking spray and kneading it some more will make it lose its stickiness and then it's all done and you're ready to rock.
If you're not so much into the edible slime concept, but still dig the idea of a slime that's coffee-scented, YouTuber Anna Makhota shared one that uses instant coffee to create a clearly-inedible version of coffee slime that's more like a more "traditional" slime recipe. It will still give you those happy coffee feelings, without the sugary mess of the edible version. If you're already making inedible slime with your kids, this grown-up, coffee-scented version won't require many more ingredients than what you've already acquired for that project.
Mix up a batch of DIY coffee slime next time you're making slime with your kids and enjoy a stress-relieving afternoon coffee break — no cup required.