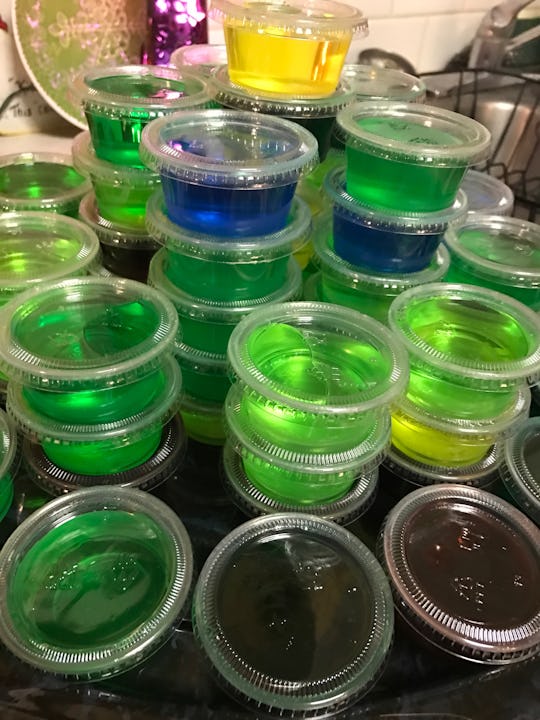 Holly Mahaffey Photography/Moment/Getty Images
How To Make Green Jello Shots That Give Your St. Patrick's Day Some Flavor
If you're looking to get a little festive this St. Patrick's Day but you aren't loving the idea of a green frothy beer or a super sweet shamrock inspired milkshake, why not get your St. Patrick's Day party started with some small, jiggly, libations. Yes, I'm talking about the always popular and pretty festive green Jello shot. But if you've been out of college for a while or prefer downing drinks than making them, then you may find yourself Googling how to make a green Jello shots. Well fear not my friends, because it's a whole lot easier than you may think.
In it's purest form, a Jello shot is simply a balanced bend of your favorite childhood snacks and your most beloved adulthood booze. But, if you're aiming to make a themed show, Liquor.com recommends you use vodka or white rum to make Jello shots, as the clear color of the alcohol won't affect the final shade of your shot. And, speaking of color, you'll want to pick up a packe of lime-falvored Jello powder if you're trying to make a St. Patrick's Day shot. Because, well, it's green.
As far as the amount of alcohol goes, Liquor.com recommends 4 ounces, whereas Instructables suggests using 8 ounces of alcohol per pack of Jello powder. You can play around with how much alcohol you use, but keep in mind that you'll be adding water to the mixture, which may water down your drink a bit. Once you have the booze and powder in place, you simpy prepare as the Jello packet suggests and then pour into pint-sized paped cups.
Simple, yes? You can easily stop there and call it a St. Patrcik's Day. But if you want your celebrations and libations to feel a bit more festive, you can easily whip up on these St. Patrick's Day-themed Jello shots for your party.