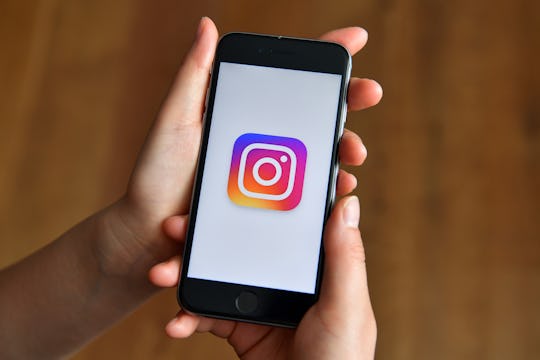 Carl Court/Getty Images News/Getty Images
How To Mute Someone On Instagram, Because It's A Long-Overdue Feature
We've all been there before: There's someone you follow on Instagram, but for whatever reason, their posts are annoying AF. Sure, you could go ahead and simply unfollow them — except, it would still be pretty darn easy for them to notice you're no longer on their "followers" list. This could potentially lead to hurt feelings, or maybe even a full-on feud. What's a sensitive, but totally-over-it Instagram user to do? Well, the social media outlet just made it a lot easier for users with the release of a mute feature. Here's how to mute someone on Instagram because it's a long-overdue feature.
As BuzzFeed reported, it was previously possible to mute someone's Stories, but not their photos in your main feed. (Simply tap and hold their profile icon, for the record.) Well now, you can do to one or the other — or both! Effective May 22, a brand new mute button will give Instagram users to ability to mute everything from selected users for as long as they want, according to a news release from the company. It's worth noting Instagram's new mute feature doesn't come as a complete surprise. Earlier this month, Mashable reported that developer Jane Wong reverse-engineered a recent Instagram update code to reveal the upcoming feature before it was officially announced by Instagram.
So how does the mute option work, exactly? To start, you need to make sure you have updated your Instagram app as soon as this latest update becomes available. Although the update starts rolling on May 22, it could potentially take weeks for it to be available to you. Try to be patient; the feature seems like it will be well worth the wait. In the meantime, let's take a look at a step-by-step guide for the muting process, according to Business Insider.
1. Decide That You Want To Mute Someone
Is someone on your feed incessantly posting annoying selfies? Or maybe a relative keeps making/sharing backwards political memes, and you've had enough. Never fear! When you stumble across a post that is essentially the straw that breaks the camel's back — but you can't quite bring yourself to straight-up unfollow the person — here's what you need to do. On the post, tap the three dots that are to the right of the account handle.
2. Select "Mute"
Right under "Unfollow," you'll see the "Mute" option third on the list. Go ahead and tap it.
3. Confirm That You Indeed Wish To Mute
From there, you'll have the choice of whether to "Mute Posts" or "Mute Posts and Story." Tap your preference and viola — you'll no longer see this person's posts popping up on your feed, but they'll still show up on your "following" list. It's worth noting that you can still see posts on their profile page and will get notified about comments/posts you're tagged in. It's a win-win situation all around.
4. Unmute If/When You're Ready
Ultimately, you may decide to just take a break from a certain Instagram handle. If you want to resume seeing their posts on your feed, unmuting is just as easy of a process. Simply go to the account profile and tap, "Unmute Posts." For the record, you can do the same be tapping the three dots at the top, right corner of their profile page and tapping "Unmute posts" from this menu.
Overall, the reaction on Twitter to Instagram's new mute option seems to be along the lines of, "Yass, finally!"
However, others seem frustrated that Instagram didn't tackle other settings as well.
Or that Instagram didn't take muting a step further.
Still others are asking their followers not to feel guilty about hurting their feelings — by urging them to forgo the mute option and simply unfollow them.
Maybe I'm just heartless, but I've never had a problem straight-up unfollowing a bothersome Instagram account. Then again, I'm an older millennial who still prefers Facebook — and I've definitely unfollowed people's activity without unfriending them. So maybe I just haven't had a chance to become annoyed by Instagram yet. Either way, the new mute feature definitely seems like a long-overdue option on Instagram. And I have a feeling plenty of needless friend feuds will be avoided because of it.