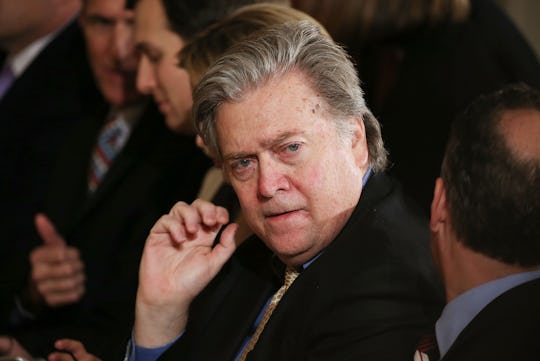 Mario Tama/Getty Images News/Getty Images
How To Oppose Steve Bannon & His NSC Position
Former Breitbart editor, Steve Bannon is one of President Donald Trump's most trusted strategists in the White House. This is not a problem — Trump has various people that he listens to in the White House about all sorts of issues. But Bannon also serves on the National Security Council — which some people see as an issue. If Bannon's position concerns you, there are steps to take to oppose Steve Bannon and his National Security Council position.
According to PolitiFact, the National Security Council has been serving, since 1947, to advise the president on national security measures — gathering top officials in foreign and domestic policy and the intelligence community to debrief him. In 2017 the NSC "has become more or less standardized as a conduit for assessing and planning national security strategy," according to PolitiFact. Whatever it may have turned into, the NSC still has a major role in advising Trump. And Bannon, the former editor of a highly opinionated news site, is neither a top official in policy or a member of the intelligence community. Therefore, some believe he does not belong in this position or knowing this kind of information. According to Slate, Bannon's position is "an assault on common sense and tradition" and also a reported violation of federal law — outlined in Title 50 of the U.S. Code.
According to ABC News, a bill has been introduced by House Democrats urging to remove Bannon from the position because of his "limited experience in the national security realm" and the fact that his position in the NSC is "unprecedented." Here are some steps for how you can join House Democrats in opposing Bannon in this very important position — and all it takes is one quick phone call.
Obtain The Phone Number For Your Representative
The Department of Homeland Security is allegedly tallying calls for Bannon's position on the NSC — but calling your representative in opposition doesn't hurt, either. Websites like 5Calls and Who Is My Representative make it easy for you to find out who your representative is and obtain their phone numbers. Or you can call the Department of Homeland Security and voice your concerns there, too.
Come Up With A Script
It doesn't have to be long. Simply state your name, where you're calling from, and that you oppose Bannon to sit on the National Security Council. Websites, such as Indivisible Guide, provide a longer and more detailed script for those looking to oppose Bannon.
Take A Deep Breath & Make That Call!
Know that by making this phone call, you're standing up for whats right, letting the Congress and the president know that this type of decision is behavior that will not be tolerated.
Bannon's position on the NSC is a role that has never been filled by a White House strategist. Now, more than ever, is the perfect time to call your representative and them know that you oppose Bannon in that position.