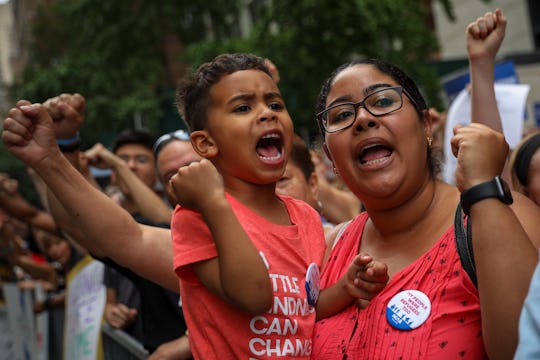 Drew Angerer/Getty Images News/Getty Images
How To Organize A "Families Belong Together" Protest In Your Community
In light of the Trump administration's immigration policy of separating families at the United States-Mexico border, advocacy groups organized a June 30 nationwide protest called "Families Belong Together." Although some people assumed the protests were called off after President Donald Trump signed an executive order on Wednesday halting the separations, this was not the case. The executive order won't reunite already separated families, so protests will go on as scheduled. Of course, many people want to participate in these rallies, and some concerned citizens are wondering how to organize a Families Belong Together protest in their community. The good news is the process is very simple.
While social media has its downsides, it's hard to deny its effectiveness in bringing people together for an important cause. Case in point: As of Thursday, there are more than 130 cities set to participate in the Families Belong Together protests, according to HuffPost. Talk about an impressive number, right?
Even more inspiring is the number of people set to attend the main rally in Washington D.C. — about 13,000 supporters have signed up for the event, according to Facebook. Woah.
Anyone who is concerned about the family separations, however, is probably not surprised at the overwhelming response to these protests. Many people are outraged by Attorney General Jeff Sessions' zero-tolerance immigration policy, and his intent to criminally prosecute immigrant families seeking asylum in the United States. And now that it's become increasingly clear that families won't be reunited under Trump's executive order, Americans are more outraged than ever.
Unfortunately, not every city has plans to host a Families Belong Together protest at the moment. And if you're one of those people who doesn't yet have an event near you, consider starting one yourself. Rest assured the process is exceptionally simple.
The first step is to visit the official website of the Families Belong Together protest. Once you get to the site, scroll down to the "Find Events Near You" section. Next, type your zip code into the protest locator to double-check that a protest isn't already happening in your area. It would be pretty confusing to have two events going on at the same time, to say the least.
After you confirm there is no scheduled protest in your neck of the woods, figure out an appropriate place to host your event. MoveOn's website suggests "town squares, public parks, city halls, houses of worship, and state government buildings," as potential event locations. The website also advises organizers to avoid detention centers.
Once you pick the location, all you have to do is fill out a simple online form under the "Create an event in your area," section. You'll need to provide your contact information, event location address, event details (max sign-up number, start time, etc.), and your event description. Additionally, you can include directions to your event.
When the form is all filled out, hit the confirm button at the end of the form. Clicking the button will send a confirmation link to your email, and it's quite important you respond to this message. If you don't confirm the event via your email, your rally won't show up on the list of participating cities. To check if your confirmation went through, search your event zip code on the protest locator page.
Also, don't forget to read the organizer rules before submitting. It goes without saying that a public event needs to adhere to certain stipulations.
All in all, it sounds like it's incredibly easy to create a Families Belong Together event in your community. It's commendable that MoveOn and other participating advocacy groups have streamlined the process for those citizens who want their voices heard.