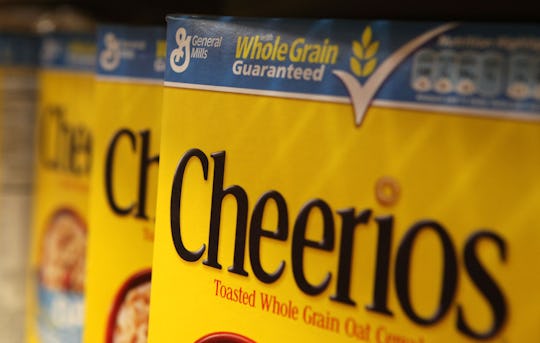 Justin Sullivan/Getty Images News/Getty Images
How To Help Cheerios' "Bring Back The Bees"
Spring has officially sprung as of early Monday morning, and one popular breakfast cereal has gotten into the spring of things with a unique awareness campaign: #BringBackTheBees. General Mills aims to tackle the issue of declining bee populations with the help of Buzz the Bee, the mascot of Honey Nut Cheerios. The cereal maker gave out free wildflower seed packets on its U.S. and Canadian websites to create pollinator habitats. If you're wondering how to participate in Cheerios' Bring Back the Bees campaign, you're in luck if you're in Canada. Otherwise, if you live in the United States, you're out of luck, since General Mills Bring Back the Bees campaign was so successful in its first week that it completely blew through its U.S. stock of free wildflower seed packets — but, there are still ways you can help bring back the bees.
Update: In a statement to Romper, a General Mills spokesperson wrote, "The flower varieties within the Bee Friendlier Mix were selected for their flowers which produce nectar and pollen that are attractive to bees and other pollinators. The mixture contains annuals, biennials, and perennials that produce flowers throughout the entire growing season (early, mid, and late) in a wide range of colors. The seed varieties in the mix are not considered invasive."
Cheerios's original goal was to give away free seeds to encourage the planting of 200 million wildflowers across the United States and Canada. According to the General Mills's company blog, it was overwhelmed with requests for free wildflower seeds, and the Bring Back the Bees campaign will send out 1.5 billion seeds instead, knocking its original goal out of the park.
As part of the awareness campaign, Buzz the Bee vanished from the front and back of Honey Nut Cheerios cereal boxes, leaving behind only a white outline of the familiar breakfast mascot. Emblazoned with a "Where's Buzz the Bee?" caption, each box directs consumers to the #BringBackTheBees website, where both U.S. and Canadian residents could fill out a short form to order a free packet of wildflowers. The U.S. website is no longer offering free seed packets, but Canadians can still sign up to get free wildflower seeds for delivery within Canada.
While focusing on an environmental issue as important as the alarming rate of declining bee populations worldwide, the Bring Back the Bees campaign itself has faced some criticism, with website Lifehacker noting that several of the free wildflower seeds are considered invasive species in certain parts of the United States. Oops. General Mills did not immediately respond to Romper's request for comment.
If you're in the United States, you're out of luck on the free seeds... from Cheerios. Here are a couple of other ways to help bring back the bees.
Feed A Bee
Feed A Bee is a similar campaign from Bayer Crop Science. It too gave out free wildflower seed packets and has distributed more than two billion wildflower seeds. Due to the overwhelming response to its campaign, it is now moving onto a more social approach. "Every time #FeedABee is shared, we'll plant a wildflower!" reads the website. Simply watch and share the #FeedABee video, and Bayer Crop Science will plant a wildflower on your behalf every time you do.
Pollinator Protection Pledge
Sponsored by Xerces, an organization that works to preserve the health of pollinators, has a Pollinator Protection Pledge encouraging gardeners to stop using pesticides, considered one possible factor in declining bee populations. The pledge asks those who sign to not only grow bee-friendly flowers, but to avoid using pesticides and insecticides on them.
No matter how you invest in bringing back the bees, it's an important and timely cause for your spring gardens this year.