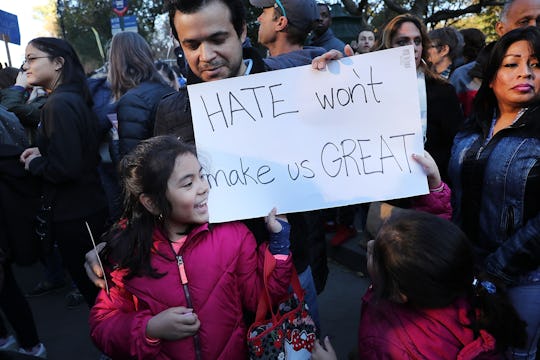 Spencer Platt/Getty Images News/Getty Images
Participate In The Women's March Without Traveling
In less than two weeks, hundreds of thousands of people will gather on the National Mall in Washington D.C. to watch President-elect Donald Trump take the oath of office and become the 45th president of the United States. On the following day, just as many women will gather in Washington D.C. to walk in the Women's March on Washington, an event meant to protest what many believe to be a dangerous incoming presidency. But for those who can't get to Washington in time for the march or are unable to attend for any other reason, there are still ways to participate in the Women's March from afar.
The march, according to The New York Times will "be a momentous display of unity in protest of a president whose treatment of women came to dominate the campaign's final weeks." These thousands of protestors will gather in D.C. at the intersection of Independence Avenue and Third Street SW to stand together in solidarity and demonstrate that voices will be heard.
According to Newsweek, the march will "allow people to stand together in solidarity with our partners and children for the protection of our rights, our safety, and our families." This is an amazing cause to get behind — but for the people who can't afford to travel to D.C. on Inauguration Day or simply can't leave their home state, there are plenty of ways to participate in the Women's March on Washington from, well, anywhere that isn't Washington.
Participate In A Local March
So you can't make it to the big march in D.C. — but maybe you can make it to a sister march in your state. According to Newsweek, there will be a march in all 50 states — with multiple marches in each state and out of the country. Attendees looking for the event nearest them can enter their zip code on the Women's March website to find out more information about the sister march in their area — including details about where to meet and how long it will last.
Buy A Shirt
So maybe you can't attend one of the many marches across the nation — but you can still show solidarity with the marchers by purchasing a shirt. The shirts, which range in price from $25 to $55, will not be delivered in time for the march — but all of the proceeds from the shirts will go to the Women's March on Washington regardless. With this purchase, you're showing solidarity with the women marching while giving back at the same time — and rocking a pretty cute tee.
Make A Donation
The Women's March On Washington is currently accepting monetary donations through its website which will go towards the logistics and expenses that is takes to put on the march. So far, the Women's March on Washington has raised 48 percent of the $2 million goal set. Give a donation to see that percentage rise and show your solidarity, even if you can't make it to a march.
Participate On Social Media
Looking for a cost-free and travel-free alternative to the Women's March on Washington? Show your support for the cause of social media. Throughout the past few months, people have been using #WhyIMarch to show their purpose behind coming together with march participants. Using the hashtag — leading up to and during the march — is just one way to participate and show people why you are supporting the cause.
Women from all across the nation and around the world will be participating in the Women's March — even if they can't make it to D.C. These are just a few of the ways to join those women and show your support.