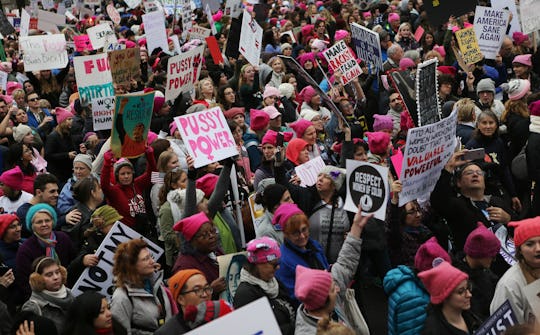 Mario Tama/Getty Images News/Getty Images
How To Participate In The Women's Strike In March
"The future depends entirely on what each of us does every day," feminist Gloria Steinem has said. "A movement is only people moving." While there were plenty of people eager to deride the Women's March on Washington as just a flash in the pan moment of feminist frustration, it has exploded into a global movement for the continued advocacy and protection of human rights. The goal of the Women's March didn't end when the streets cleared and marchers went home in January: the progressivist work continues every day. Next on the agenda from the organizers of the Women's March is the Women's Strike — and here's how you can participate, because the work of this human rights movement is far from over.
Billed as "a day without a woman," the Women's Strike is planned as an international day of action scheduled to take place March 8, to coincide with International Women's Day. The mission of the Women's Strike is to both protest against male violence and to defend reproductive rights, making its occurrence on International Women's Day that much more meaningful. The Women's Strike isn't just about making women's voices heard — it's about taking deliberate actions of civil resistance to drive our message home.
The organizers of the Women's March have proposed a new collective action calling on women across the globe to join in a general strike. In a piece for The Guardian, the Women's Strike organizers describe what they're asking women to do on March 8:
The idea is to mobilize women, including trans women, and all who support them in an international day of struggle – a day of striking, marching, blocking roads, bridges, and squares, abstaining from domestic care and sex work, boycotting, calling out misogynistic politicians and companies, striking in educational institutions.
Strikes by women are nothing new — one of the most famous was the 1975 women's strike in Iceland, when 90 percent of the female Icelandic workforce stopped working, cooking, and even providing childcare to protest for gender equality rights. But as Vogue wrote, women's strikes favor women of higher incomes and job security, noting that "non-unionized employees will have a more difficult time, as would a single mother, who can't exactly take the day off from parenting duties." These are some of the same criticisms of and limitations faced by the Women's March, as not every woman had the ability or luxury to participate.
A Women's March Instagram post announcing the Women's Strike promised that "over the next few weeks we will be sharing more information on what actions on that day can look like for you." Hopefully those forthcoming actions will include how women who might find it more difficult to strike can still participate with purpose. For now, mark your calendars for March 8 and get ready to make some alternate plans for work, childcare, and more, if you can, because the resistance continues with the Women's Strike.