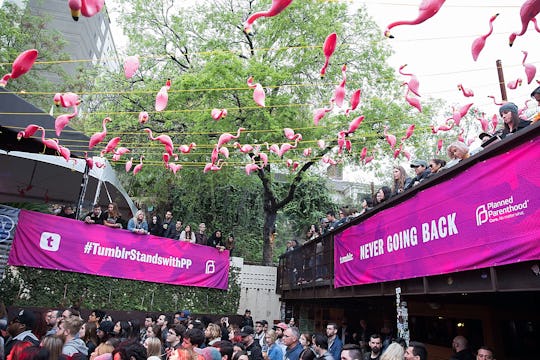 Rick Kern/Getty Images Entertainment/Getty Images
#PinkOut Your Profile & Support Planned Parenthood
While the Republican health care bill, the American Health Care Act, was officially dropped last week, that doesn't mean that the fight is over. Since its inception, Republicans have fought long and hard to repeal Obamacare, and it's no secret that they aren't fans of Planned Parenthood. The AHCA sought to defund Planned Parenthood for at least one year, and reports that the House Freedom Caucus is still attempting to defund the organization has many worried. But Planned Parenthood is fighting back with a nationwide #PinkOut day on March 29. Looking to support the movement yourself? Here's how to #PinkOut your profile and lend a hand to Planned Parenthood in the midst of all this political hell-fire.
Unlike the Women's March on Washington, "Pink Out Day" isn't actually a physical event to attend. It isn't a protest with a set location, it's a multi-faceted day of resistance for women (and men of course) to show lawmakers that there are millions of Planned Parenthood supporters in the United States, and that defunding the program won't be so easy. From pinking out your profile on social media, wearing Planned Parenthood pink, posting selfies, telling your Facebook friends and family that you'll be participating, and joining a "thunderclap" (don't worry, I'll explain that later), the ways to join in on Pink Out Day are plenty.
According to Planned Parenthood's website, the day is dedicated to resisting the current administration's attacks on women's health care:
Pink Out Day is time for reproductive rights supporters to show their defiance against the relentless attacks on Planned Parenthood. It's a day to show anti-women's health politicians that we will fight like hell to protect our 2.5 million patients a year and the 1 in 5 women that will go to Planned Parenthood in her life.
So, how can you get involved? Well, you can add a filter to your profile picture, buy yourself some PP swag (with proceeds obviously going to the organization), and, yeah, attend a "thunderclap."
In order to "Pink Out" your profile, simply, go to the link above, log in with your Facebook or Twitter profile (or both!) and authorize the Twibbon App. Then, the app will apply a pink Planned Parenthood filter over your existing profile picture. You can preview the change before you finalize it, or if you want to wait to make the change at a specific time.
As far as the thunderclap is concerned, it's basically a way to spread the word on social media that you support Planned Parenthood by scheduling posts ahead of time. So, really, taking part in #PinkOut day is as easy as the concept of a woman's right to her own body! (Fun!)
#PinkOut day will take place on Wednesday, March 29, 2017. It will last all day and serve as an accessible way for Americans everywhere to show their support of the organization, and to tell lawmakers that they have a lot more resistance than they might have estimated.