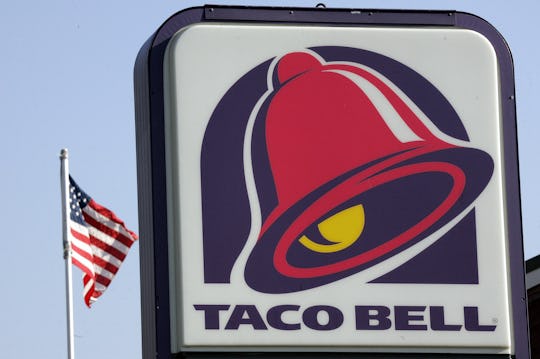 DON EMMERT/AFP/Getty Images
How To Pre-Order Taco Bell's Mystery Product & Get A Sneak Peek At The Item Everyone's Been Talking About
It seems the biggest question this Sunday may not be "who is going win the Super Bowl" but "what the hell is Taco Bell's new product?" That's right, Taco Bell aficionados, the chain best known for cinnamon twists and the infamous Doritos Locos Tacos is launching a new item this weekend, but what it actually is remains a mystery. Even better, customers who pre-order the mystery meal now — before its unveiling during the Super Bowl spot — will be able to pick up the item Saturday afternoon, before everyone gets a glimpse at the company's big Super Bowl commercial on Sunday. So how can you pre-order Taco Bell's mystery product?
According to Marisa Thalberg, chief marketing officer for Taco Bell, pre-ordering is simple. In a press release shared on Business Insider — a press release with key words redacted, mind you — explained that all one needs to do to order the new Taco Bell product is to go to Ta.co and reserve anywhere from one to five items ahead of time. "As part of the next phase of our big reveal, we've created a pre-order program on Ta.co that will give people special access to try it a full two days before everyone else," said Thalberg. "There's just one thing: It's a 'blind' pre-order. Trust us, though; It's worth it."
The unknown Taco Bell product is priced at $2.99, and customers are limited to five pre-orders each. Those who place a pre-order can than pick up their product between 2 p.m. and 4 p.m. on Saturday, Feb. 6, according to Fortune.
Over on the Taco Bell blog (did you know Taco Bell had a blog, called "The Feed?"), the company took the announcement one step further, introducing something of a challenge:
We've done some pretty crazy things in the past. We've blacked out our social media channels to announce our mobile app, enlisted an army of Breakfast Defectors to unveil our breakfast menu and changed our website URL to Ta.co because we really love tacos. So it would only be natural that for what might be our biggest innovation yet, the ______, we drop this on you...a 'blind' pre-order…you'll be able to get ______ before the rest of America on Saturday, Feb. 6. Are you a true Taco Bell fan? Prove it...go on, you know you want to...
The Mexican fast-food chain also posted several "behind-the-scenes" style commercials to their YouTube channel, staring NFL-great James Harden and "alien expert" Giorgio A. Tsoukalos.
Not ready to throw down $2.99, or to take the "leap of faith?" Well, fear not, those who do not pre-order the product can try the new menu item on Monday, Feb. 8.