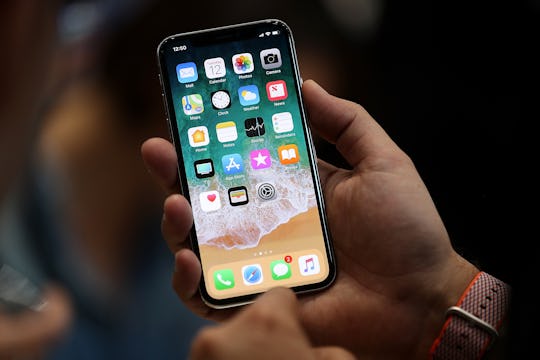 Justin Sullivan/Getty Images News/Getty Images
How To Preorder The Coveted iPhone X
If you're a fan of Apple and its latest series of iPhones (shoutout to all the people who still refuse to ditch their Android phones), then you're probably freaking out about the impressive iPhone X aka the iPhone 10. The iPhone X boasts a ton of cool features, including wireless charging, facial recognition, and brand new cameras, to name a few. Given all the hype surrounding Apple's newest creation, you're going to want to know how to preorder the iPhone X — it's almost guaranteed this iPhone will sell out fast.
According to Tech Radar, people can pre-order the iPhone X starting on Oct. 27, just a week before its official release date on Nov. 3. As for the exact time preorder sales will commence, things will kick off at 12:01 a.m. Pacific Standard Time, according to Uproxx, which is bad news for sleep deprived parents or for people who can barely stay awake after indulging in one glass of red wine. Either way, mark your calendars for Oct. 27 at 12:01 a.m. Pacific Standard Time — greatness waits for no man.
Now that you've got the time and date of iPhone X preorder sales down, here's where you can preorder the mythical phone.
The most obvious place to preorder is on Apple's website. If you can't preorder via Apple, then you can "preorder directly through service providers like AT&T, Verizon, T-Mobile and Sprint," according to TIME. If you're afraid of the internet going up in flames when 12:01 hits, you can head over to your local Apple store to wait with hundreds of other people desperate to get their hands on the iPhone X. At this time, other popular retailers like Target and Best Buy aren't participating in the preorder sales, but this could change.
Preorder logistics aside, the internet is already losing it over the prospect of preordering the iPhone X. Here are some highlights:
Yep, people are undeniably excited for the iPhone X. That being said, if you're one of the people who will be counting down the days until Oct. 27, it's best to brush up on some preordering tips so you don't get your Apple-shaped heart broken.
According to Gadget Hacks, consumers should consider using the Apple Store app to preorder their phones, considering Apple's website might crash due to heavy traffic:
... the Apple Store app is a surprisingly reliable way to make purchases and preorders through Apple. Buyers even report that the app is faster and most trustworthy than Apple's website for preordering during the heavy traffic.
In addition, Gadget Hacks recommends updating your payment info before you attempt to preorder the iPhone X:
The last thing you want on preorder day is to suddenly remember you have an old credit card attached to your Apple ID. By the time you've entered a new card into your account, those new iPhones may be long-gone. Just head to "Account" if using the Apple Store app. Alternatively, go to the iTunes & App Store menu in your iPhone's settings, tap your Apple ID, then choose "View Apple ID." Next, tap "Payment Information," then carefully review what you have entered already, or enter your relevant information.
Going off of this idea, I also advise making sure your Apple ID and login info is working prior to ordering — I've locked myself out of my account more times than I'd like to admit.
If fate is working against you on Oct. 27 and Nov. 3, don't stress out or dissolve into a blind fit of rage. Black Friday and Cyber Monday are two other great days to purchase the iPhone X, especially if the idea of preorder sales make you dizzy with anxiety (It's a lot of pressure, right?). At the end of the day, a phone is just a phone (no shade toward the tech enthusiasts out there), and you'll get your hands on the iPhone X eventually. Good luck.
Watch Romper's new video series,Romper's DoulaDiaries:
Check out the entire Romper's Doula Diaries series and other videos on Facebook and the Bustle app across Apple TV, Roku, and Amazon Fire TV.