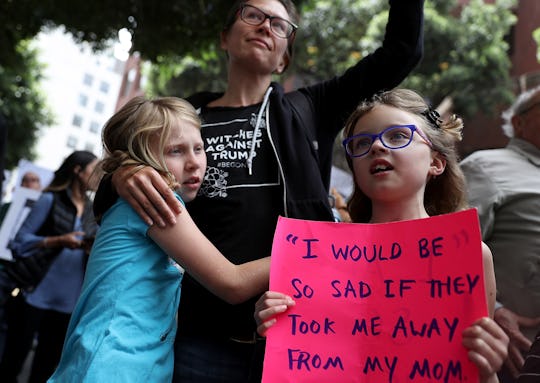 Justin Sullivan/Getty Images News/Getty Images
How To Prepare Your Children For The Families Belong Together Rally
I recently attended an event where author Glennon Doyle spoke and offered her gorgeous insight about topics ranging from parenting to sex to religion. Doyle, the founder and president of Together Rising, also talked about navigating activism with children at your side. In fact, many attendees asked her for advice on how to talk to their children about the "zero tolerance" policy and families being separated at the border. The truth is, kids "get" it and many of them are interested in advocating. And if you want to know how to prepare your children for the Families Belong Together rally, then experts and moms alike have you covered.
"Activism is a value that can be role modeled and taught to children," Jenny Korn, a fellow at the Berkman Klein Center for Internet and Society at Harvard University, tells Romper in an email interview. "Including them in protests demonstrates thoughtfulness in practice. Thinking about others means marching for causes in which we believe, particularly around the policy of keeping immigrant families together."
Which is why Jamie Beth S. of Lancaster, Pennsylvania, says she and her two kids — ages 9 and 6 — have attended many rallies and protests together. Her most important rule of thumb before attending? Jamie says she always asks her children if they want to go and "we follow their lead."
Making sure that the child wants to attend a protestor march is an important step, Dr. Carla Marie Manly, a California-based clinical psychologist, tells Romper in an email interview. "Sometimes children accompany parents to please the parent, when they actually do not feel safe, comfortable, or invested."
Jamie says that's exactly why she takes note of her daughter, 9, who doesn't like to go anywhere where people run the risk of being arrested. "So, we avoid taking her to high-risk actions, even if there are low-risk areas we could be in as part of the action," she says. "We always make sure they know what the event is about, and we make sure to talk to them about why we think it is important, answer all of their questions, and get their feedback on the issues."
Which is ultra important, says Dr. Nekeshia Hammond, the host of "Parenting Explained With Dr. Hammond" and owner of Hammond Psychology & Associates. "Parents need to be prepared to deal with sadness, confusion, anger, and fear during and after the rally," she tells Romper. "Expect youth to have lots of questions regarding their own sense of safety. Many younger children have already asked 'Will I be taken away too?' as they do not understand politics and the media like adults do. Take time to explain in child-appropriate terms what our country is facing and allow an opportunity to teach children how they can get involved."
Shannon Brescher Shea tells me on Facebook that explaining things to her kids based on their emotional and intellectual level is how she helps guide them through various advocacy efforts. Like Jaime, she also follows their lead — for instance, the family quit last year's Climate March when it became too hot to continue.
"As a parent, one of the hardest and most important things you can do is act in a way that is true to your values," Brescher Shea wrote on her blog. "Kids see through hypocrisy in a heartbeat. Marching and bringing my kids was one way for me not only tell my kids what I believe in, but show it as well."
And don't overthink it, says Carol Katarsky of Philadelphia, Pennsylvania. She tells me on Facebook that this is especially important when it is the parent's first march or rally because "there is a tendency to assume everything could break out into a riot at any time, but honestly, that is very rare.
"Most events will note if they are family-friendly or not," Katarsky says. "Go to those that are. If the crowd is very large, stay toward the back or sides so you can make a quicker exit (in case there is trouble or just if your child gets bored/tired/whatever.)"
Jennifer Meiselman, mom of three, tells Romper that attending marches with her children has been a good way to introduce her kids to the political process and standing up for what is right." Meiselman says she also comes equipped with everyday parenting tricks, like packing snacks and drinks to keep kids happy.
Which is also why Elizabeth of Boston, Massachusetts says she brings lollipops to marches and rallies. "It sounds silly, but it's a great way to keep them occupied and in good spirits, especially when there are big crowds and you can't really see the place where the main speakers are," she tells me on Facebook.
Other important items to have on hand while advocating with little ones? Extra diapers, bottles, and/or pumping supplies, according to Medium. Consider leaving the stroller at home and using a carrier to tote your little one in order to more easily navigate crowds.
Megan Rogers says a clear backpack "for the absolute essentials (namely diapers and wipes)" allowed her to easily navigate the Women's March with her son. "I had an index card with names and phone numbers just in case; you could modify this trick by writing down a key phone number on a very young child's arm or pin something to their jacket or something," she tells me on Facebook. "It was helpful for peace of mind. "
And remember there's a very important point at the heart of introducing your children to advocacy, Hammond says: "Whether you attend a rally with your child or discuss the rally at home, parents can indeed teach the power of social advocacy and human rights."