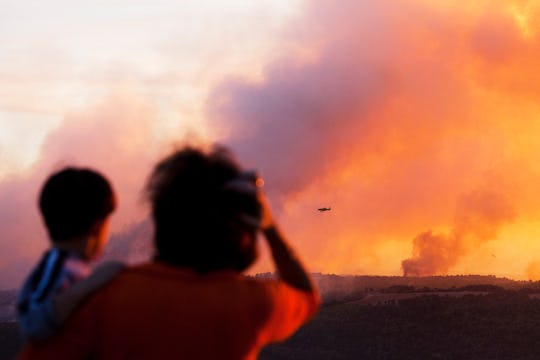 Uriel Sinai/Getty Images News/Getty Images
If Your Area Is Affected By Wildfires, Here's How To Protect Your Kids From The Smoke
This summer has seen a record number of wildfires throughout the country, most notably the devastating conflagrations in California, so parents in burn-sensitive areas will need to know how to protect their children from wildfire smoke. According to Wired, over 15 million acres are currently on fire from Arizona to Alaska, including the largest wildfire in California history 100 miles north of San Francisco, and the deadly Carr Fire upstate that has burned over 1,000 homes and killed eight people. With such a widespread natural disaster, parents are right to be concerned about the health risks to their children.
Wildfire smoke is a particularly noxious blend of irritant organic particles, water vapor and poisonous gases like carbon monoxide, carbon dioxide, and nitrogen oxide, according to the U.S.D.A. Forest Service. The particles in particular, which typically measure 30 times smaller than the width of a human hair, build up inside lungs — particularly the small, developing lungs of children — to create a whole host of health problems.
While smoke will be concentrated in the areas with active burning and fuel supplied for the fires, it can spread with the wind and affect residents in areas not otherwise impacted by the blaze, even as far out as Minnesota, according to the article. Children are particularly vulnerable to the health effects of inhaling particulate matter from the fires because, pound for pound, they inhale much more air than adults, says the American Academy of Pediatrics (AAP), and are more sensitive to environmental contaminants that can negatively impact their health.
Should your family find themselves in an affected area, children who are struggling with wildfire smoke will experience chest pain and tightness, trouble breathing, wheezing or coughing and dizziness. Kids with asthma, allergies and related health concerns are particularly vulnerable to these conditions, the association continues. Any child experiencing these symptoms should be removed to an area with cleaner air and given medical attention. Should they become sleepy and refuse food and water, they need immediate emergency care.
First, parents should monitor their area's air quality using the Environmental Protection Agency's AirNow map or subscribe to Enviroflash for alerts and forecasts, particularly if they are located downwind from an active fire. Next up on the list if your family is at risk of smoke inhalation is to close the fresh air intake on your air conditioner to recirculate the cleaner air inside your home and designate a "clean room" where the doors and windows remain shut. The Santa Barbara Public Health Department advises installing High Efficiency Particulate Air (HEPA) filters in the room to screen matter out of the air, though they are ineffective against gases like carbon monoxide that circulate in wildfire smoke.
In the event of a smoke event, keep children indoors and in the clean room as much as possible while maintaining pristine air quality indoors. Do not, the AAP warns, use gas, propane or wood-burning stoves, burn candles or fireplaces, or even vacuum, since each contributes to decreasing air quality within a home. If you smell or see smoke in the area or receive notification from an expert agency about poor air quality, keep kids indoors until the event passes.
The AAP also warned that paint, surgical, and dust masks do not fit children properly and will not protect their lungs from wildfire smoke, nor will a wet wash cloth.
If you live in an area that doesn't have pertinent air quality measures, the Forest Service advises that the best measure of smoke danger is visibility. While there are several sources online to help the public gauge visibility, the state of Oregon website offered some details about visually figuring out smoke density using the 5-3-1 Index, meaning that air quality of five miles or more means the air quality is good and worsens with each mile it decreases.
Hopefully, using these measures will keep your family healthy during this very scary time in the dry western states. Be sure to monitor conditions daily until the danger passes, and stay safe.