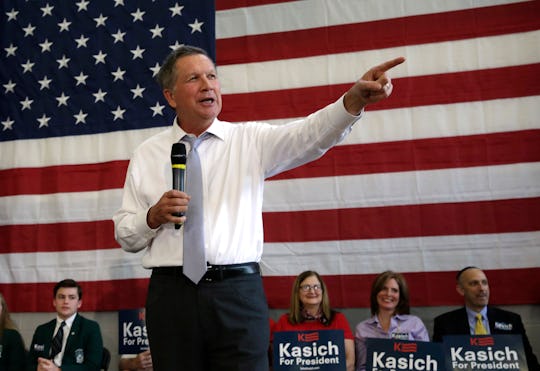 YURI GRIPAS/AFP/Getty Images
How To Protest Ohio's Proposed 6-Week Abortion Ban
On Tuesday, Ohio lawmakers passed legislation that would ban abortions as soon as a fetal heartbeat is detected — which can be as early as six weeks gestation. The controversial bill was passed by a Republican-led House and Senate, and sent to Ohio Gov. John Kasich, The Columbus Dispatch reported. The so-called "Heartbeat Bill" does not contain exceptions for victims of rape or incest, and previous attempts to pass the bill, which was recently added to an unrelated House-passed bill, have failed according to The Dispatch. The fate of the bill is now up to Kasich, who has the option to veto the legislation. Such a bill could have grave effects for so many women, so here's how to protest Ohio's proposed six-week abortion ban.
According to The Dispatch, Ohio Senate president Keith Faber, noted that President-elect Donald Trump's victory could give the bill a "better chance" of passing than it had before. "A new president, new Supreme Court appointees change the dynamic, and there was consensus in our caucus to move forward..." he said. He added, "I think it has a better chance than it did before."
Many critics of the bill, abortion rights advocates, and advocates for women's rights to make decisions concerning their bodies took to social media to point out that the bill's six-week cut-off so often reflects a time period when women don't know they're pregnant — among other grievances with the bill.
"After years of passing anti-abortion laws under the guise of protecting women's health and safety, they lay bare their true motives: to ban abortion in the state of Ohio," Dawn Laguens, a spokesperson for the Planned Parenthood Action Fund, said according to The Huffington Post.
Before the "Heartbeat Bill" passed, the American Civil Liberties Union (ACLU) of Ohio tweeted forewarning that it would challenge the bill in court. And below are a few ways you can protest the bill yourself:
Join Or Organize An In-Person Protest
It's no secret that gathering and protesting with like-minded individuals can help inspire change. According to Ohio's local NBC 4i, protesters have already gathered to oppose the bill on Tuesday outside the Ohio's Governor's Residence and Heritage Garden (though Kasich doesn't reside at the mansion).
Call Or Send A Letter To Kasich (Calling Is More Effective)
According to CNN, Kasich has 10 days to decide whether to veto the legislation. It may not be clear how beneficial sending letters or speaking to aides of elected officials can be — but putting the pressure on is better than not. There's certainly power in numbers, and power in having your voice heard.
Below is the contact information for Kasich:
Governor John Kasich Riffe Center, 30th Floor 77 South High Street Columbus, OH, 43215-6117
Phone: (614) 466-3555
Talk To Your Peers, Spread The News
With so much news going on, especially the recent presidential election and forthcoming inauguration, sometimes state bills can slip by without much public noise. Make sure your friends and family members know about the so-called "Heartbeat Bill," and discuss the effects it would have. The more people are informed, the better.