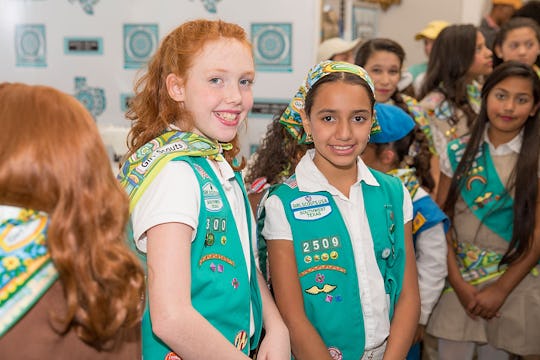 Rick Kern/Getty Images Entertainment/Getty Images
The Girl Scouts Will Walk In Trump's Inauguration
In just two days, Donald J. Trump — former host of The Apprentice, New York real estate mogul, and man who was caught on camera saying he could grab women by their genitals — is set to take the oath of office as the 45th President of the United States. His inauguration will feature an interesting mix of performers and guests, but none more surprising as the Girl Scouts of America — who were revealed late Tuesday to be part of the inaugural parade lineup. Present and former Girl Scouts are outraged, and many have wondered how to protest the Girl Scouts walking in Trump's inaugural parade.
It's no wonder so many people are upset and disappointed in the 104-year-old youth organization known for empowering young girls and women to be leaders and role models: Trump stands as the antithesis of everything the Girl Scouts stand for and represent. As a man who has openly said truly disgusting things about women and girls, it's unimaginable an organization like the Girl Scouts could march alongside with any amount of pride - and yet, they will be. If there's anything that the Girl Scouts taught me when I was a Junior Scout 25 years ago, it's that I have a duty to speak up when I witness something as wrong as this. So I'll be protesting the Girl Scouts at the inaugural parade — and here's how you can, too.
Keep Those Phone Lines Ringing
Like any good non-profit, they've got a public phone number that you can call... and call and call and call until you're heard. This is probably the number one way to protest the Girl Scouts' participation in the inaugural parade. If Twitter is to be believed, their national office phone line has been ringing off the hook — good. Keep calling, even if you have to leave a message. They need to hear from as many people as possible that, Girl Scout tradition or not, walking in Trump's parade undermines the core values of the Girl Scout Law.
Call Them Out On Social Media
In a post to their Facebook page, Girl Scouts Nation's Capitol appreciated the feedback they've received, but stood by the Girl Scouts' decision to appear at the inaugural parade: Their post read in part:
As you know, for 100 years, Girl Scouts Nation's Capital has participated in the presidential inauguration. The event is an important symbol of our democracy and the peaceful transition of power. Girl Scouts will participate in this historic event because at Girl Scouts, civic engagement, responsibility and duty are at the heart of our values and ideals. It is written into our promise and law, which among other things calls on girls to serve their country, respect authority and make the world a better place.
Um, what? Let's talk about those last three points: Serve their country, respect authority, and make the world a better place — has Trump done any of those things? No, no he hasn't. Time to light 'em up on social media: They're @girlscouts on Twitter and Girl Scouts Nation's Capitol on Facebook.
But What About The Cookies?
It's cookie time for Girl Scouts. I distinctly remember schlepping around boxes of Thin Mints and Samoas through my neighborhood in frigid temps, all in pursuit of that glorious "Top Cookie Seller" badge. While it might seem like a good idea to boycott buying Girl Scout cookies as a means of protest, it could end up having a far more detrimental effect that simply walking in the inaugural parade.
Is it a slap in the face to what the Girl Scouts represent, having them walk for Trump? Absolutely. But, to play devil's advocate: It's one day of the year, and the Girl Scouts have a lot of good work to do throughout the year by giving young girls opportunities they might not otherwise have if it weren't for the Girl Scouts. 100 percent of Girl Scout cookie sales stay local, according to the Girl Scouts website. So while you might think that not buying your annual Girl Scout cookie stash is going to send a message on a national level, it's only hurting Girl Scouts in your own communities.
Look, it's up to you whether or not you can support the Girl Scouts if they go through with their plans to walk in the inaugural parade — but this is just some food for thought boycotting Girl Scout cookies as a way of protesting. Honestly? Your best bet is to keep the Girl Scouts' phone lines, Twitter, and Facebook accounts lit up from now until Friday.