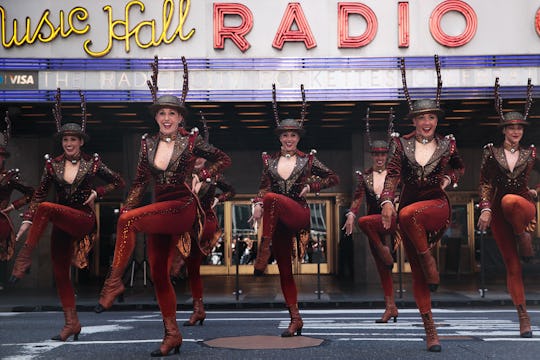 Drew Angerer/Getty Images News/Getty Images
Protest The Rockettes Inaugural Performance
The Radio City Rockettes will be performing at President-elect Donald Trump's inauguration — but not all of them are happy about it, according to several sources. Several full-time Rockettes have reportedly spoken out both on social media and to reporters, saying that they need to either perform on Inauguration Day or risk losing their jobs. Considering that Trump has made several infamous, controversial comments about women and the fact that 24 women have accused him of sexual misconduct, forcing women to perform at his inauguration may not sit well with everyone. Here's how to protest the Rockettes' inaugural performance, if you'd like to support the dancers who don't want to perform in his honor.
Trump had denied all of the sexual misconduct allegations, and has even denied knowing some of the women, according to CBS News.
According to Perez Hilton, Rockette Phoebe Pearl took to Instagram on Thursday to speak out against news of the performance, reportedly writing:
I usually don't use social media to make a political stand but I feel overwhelmed with emotion. Finding out that it has been decided for us that Rockettes will be performing at the Presidential inauguration makes me feel embarrassed and disappointed. The women I work with are intelligent and are full of love and the decision of performing for a man that stands for everything we're against is appalling. I am speaking for just myself but please know that after we found out this news, we have been performing with tears in our eyes and heavy hearts. We will not be forced! #notmypresident
Broadway World also reported on an email allegedly sent by the American Guild of Variety Artists to the Rockettes, saying that "any talk of boycotting this event is invalid" and stressing that if dancers were full-time employees, they had to perform at the event. One source told Perez Hilton that full-time Rockettes who did not perform on Inauguration Day could lose their jobs or face legal consequences.
According to Variety, however, the Madison Square Garden Company said in a statement that all Rockettes' involvement was voluntary. "For a Rockette to be considered for an event, they must voluntarily sign up and are never told they have to perform at a particular event, including the inaugural," the statement read. "It is always their choice. In fact, for the coming inauguration, we had more Rockettes request to participate than we have slots available. We eagerly await the inaugural celebrations."
Plenty of other celebrities have reportedly turned down performances at Trump's inauguration. For those who would like to speak out regarding the Rockettes' reported involvement, you can write Radio City, the American Guild of Variety Artists, and several producers to let your voice be heard.
To start with, email Radio City at feedbackradiocity@msg.com, and make sure to include your phone number so that you receive a response. You can also email producers directly: Jill DeForte, vice president of Radio City's New York productions, can be reached at Jill.DeForte@msg.com; and Larry Sedwick, senior vice president of Radio City's New York productions, at Larry.Sedwick@msg.com. You can also pick up your phone and ring the American Guild of Variety Artists at (212) 675-1003, or email them at agva@agvausa.com.
With enough pressure, the AGVA and Radio City might change their alleged stance on this particular event. Either way, it's worth letting these corporations — and the Rockettes — know where you stand.