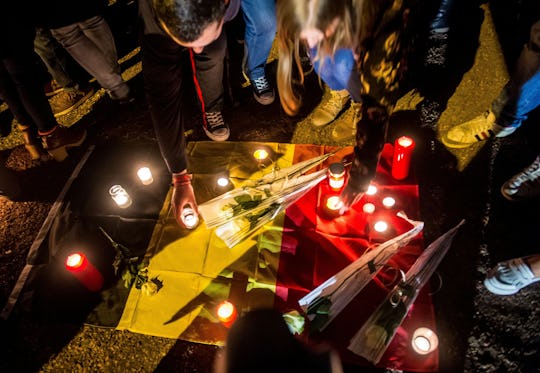 PHILIPPE HUGUEN/AFP/Getty Images
How To Put Other Countries' Flags On Your Facebook Profile Photo
In the wake of tragedy, it's common for people of the world to come together in support of the country and victims whose lives have been lost or affected by what has happened. Whether the support comes in the form of donating money to the country's relief efforts or even changing your own profile picture to the country's flag, every bit of support helps and shows that you care. But while it may be simple to show your support for places like the Brussels, which was struck by a series of bombings this week, or Paris, which was hit with a wave of terrorist attacks last November, figuring out how to put other countries' flags on your Facebook profile photo may prove a little more tricky. That's not to say it's impossible, of course.
While the bombings in the Belgian capital are only the most recent act of terror, there have been several other attacks across the globe over the past 10 days. According to NPR, these attacks may have had less attention due to the fact that some are difficult to access and reporting resources are limited in these countries. The Ivory Coast, Yemen, Nigeria have all been subjected to extreme violence over the past week and a half. Turkey alone has seen two suicide car-bombs since that date.
While Facebook does not have a filter for every single one of these countries, you can simply edit the flag on top of your profile picture in a few steps with a little free online photo editing (using sites like Pixlr or similar smartphone apps). Here, I've compiled an easy step-by-step tutorial using Pixlr and my own photo, for you to follow along.
Step 1: Choose Your Photo
Click "Browse" and upload your current profile picture or favorite photo that is saved to your computer. I chose a picture of me and a bunch of seriously cute dogs for this tutorial.
Step 2: Click On The "Adjustment" Tab, Then Click On The "Add Image" Icon
See? Its super simple and you're almost halfway to being finished.
Step 2: Find & Save Your Flag
For this tutorial, I found the Turkey Flag using the website Flag Lane. Flag Lane provides free downloads of flags from countries all over the world and provides a variety of sizes to fit your picture. I chose the large JPG image for the best quality and size.
Step 4: Upload Your Flag Photo
Under the "Add Image" tab, click browse and choose the flag you saved to your computer. It will come out to be pretty large so adjust the flag to its proper placement on top of your image.
Step 5: Change Your "Opacity" & Click "Apply"
Opacity levels will vary for everyone, but find the level that you feel like best shows off the colors of the flag that you are supporting but doesn't overpower the photo. I found that 52% opacity worked best for me. After playing around with the flag's opacity, click "apply."
Step 6: Save Your Image & Upload To Facebook
Hit the "Save" button in the top left corner, name the file and save it to your computer. All that is left is to go to your Facebook profile, click "Upload Profile Picture," upload your new Facebook profile picture, and you are good to go!
Showing support for other countries hit with tragedy is simpler these days, thanks to social media — and even though it might seem like simply swapping out a profile pic isn't doing much, to the global Facebook community, showing that you stand in support of each other couldn't hurt.