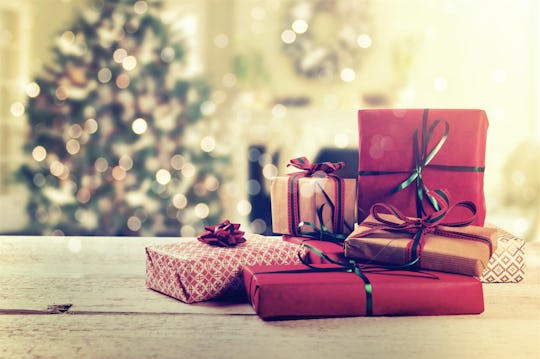 ronstik/Fotolia
The Definitive Guide To Putting Presents Under Your Christmas Tree
If you are anything like me, you love buying holiday gifts for family and friends. I mean, who doesn't like to see their kids' eyes light up on Christmas morning? It's my favorite part of the season. But as you decorate your home with holiday cheer, and cross items off your list, you may wonder how to put presents under your Christmas tree so they look amazing and stay safe and sound until December 25.
Whether you like to stack presents taller than your tree itself, or prefer a more understated approach, you should keep a few things in mind when arranging presents under your newly-decorated tree. Online retailer Wayfair recommends wrapping gifts in a variety of types and patterns of paper. The website Common Sense With Money suggests spreading your presents out, and sorting packages by size to make it look like you have more presents under the tree. According to This Old House, however you stack them, it's important to keep presents away from heat sources like fireplaces and light bulbs to avoid house fires. And if you have young children, Love From The Oven recommends considering ways to keep your ornaments, and more importantly, your little ones safe from harm.
In other words, there's an endless list of suggestions to consider when putting your presents under the tree. Turns out, this common holiday tradition is easier said than done.
According to online retailer Wayfair, it's best to select two or three types of wrapping paper in a similar color palette to wrap your gifts, using ribbons and bags to create variation and visual interest. When it comes to arranging them under the tree, you should place the most exciting gifts in back, so they are opened last, and smaller, less anticipated items like socks and toiletries in front. The site suggests alternating gifts by recipient (which sounds like a lot of work to me) and creating smaller stacks that vary in size so that "your tree looks like an artful collection, not a tower block." If you have any huge presents, they should be placed to the side of your tree, rather than underneath it.
The website Common Sense With Money suggests spreading your presents out rather than piling them high, so you can make your haul from Santa look bigger than it actually is. The same site recommends sorting packages by height, placing larger gifts on either side of the tree, smaller gifts in front, and nothing on the back side that people can't see anyway. Common Sense With Money also suggests using a variety of colors and patterns of wrapping paper, to prevent your gifts from visually blending together. You can even use a different pattern for each person on Santa's list for easy sorting and opening on Christmas morning.
Once you've arranged your gifts in a pretty display under the tree, you definitely will want to keep it that way until Christmas morning. According to This Old House, it's important that you be mindful of where and how you store Christmas gifts. Wrapping paper is super flammable, so it's best not to store presents too closely to heat sources like fireplaces, light bulbs, heaters, or apparently Christmas trees themselves. According to the National Fire Protection Association, Christmas trees cause over 200 home fires in the United States each year, which is scary enough to make you consider not having a tree at all.
Love From The Oven suggests that if you have small children or pets, you might want to consider using a baby gate or, if you don't want to sacrifice style, to create a wall of heavy "faux" presents around your tree. These "bogus" presents can serve as a way to keep your loved ones and your tree safe from harm. Another strategy, according to What To Expect, is to keep your presents completely hidden away until Christmas morning so you can keep your kids from being tempted to sneak a peek and ruining the surprise.
Whether you choose to stack boxes neatly or pile them high, the most important part of the whole" buying presents during the holiday season" thing is having fun and reminding your loved ones that you appreciate them. So grab some boxes and bags and let your personal holiday style and inner Elf shine through.
Check out Romper's new video series, Romper's Doula Diaries:
Watch full episodes of Romper's Doula Diaries on Facebook Watch.